Peroral Endoscopic Myotomy (POEM) for Achalasia
Main Text
Achalasia, a primary motility disorder of the esophagus, is the result of improper relaxation of the lower esophageal sphincter and has an incidence ranging from 1 to 6 in 100,000. Impaired transit of food and liquid from the esophagus to the stomach results in symptoms of dysphagia, regurgitation, retrosternal fullness/pain, and weight loss. Symptoms can be managed with a range of medical or procedural therapy. However, the best results are obtained from surgical management with myotomy. Peroral endoscopic myotomy (POEM) has emerged as a less invasive manner through which to perform a myotomy and provides relief of dysphagia comparable to laparoscopic Heller myotomy – the current standard of surgical therapy for achalasia.
Achalasia is a primary motility disorder of the esophagus with an incidence ranging from 1 to 6 in 100,000.1,2 Achalasia is due to inappropriate relaxation of the lower esophageal sphincter (LES), resulting in impaired transit of a food bolus from the esophagus to the stomach. Consequently, peristalsis in the esophagus is impaired with a resultant increase in simultaneous contractions of the esophagus with lower contractile amplitude.2
The pathophysiology of achalasia is believed to be due to degeneration of the ganglia of the esophageal myenteric plexus.2 Hypertension in the LES develops with subsequent dilation of the esophagus and retention of food, liquids, and saliva in the esophagus. As a result, patients typically experience dysphagia, regurgitation, and retrosternal pain or fullness. Many symptoms develop slowly, and the mean time to diagnosis is approximately 4–5 years.1
The patient is a 56-year-old female with a past medical history of obesity and type 1 achalasia who presented with two years of dysphagia associated with solids. Over the last six months, her dysphagia had progressed; she was now experiencing dysphagia with liquids. After a meal, she experienced a sensation of retrosternal fullness that was alleviated by emesis. She had no complaints of weight loss or regurgitation.
Of note, the most common presenting symptom of achalasia is dysphagia of solids (experienced by up to 90% of patients) and liquids (85% of patients).1
The physical exam for achalasia is largely nonspecific with the history of present illness offering greater insight into the potential diagnosis of achalasia and other esophageal motility disorders. Depending on the length of time that the patient has been experiencing symptoms, patients may display signs of weight loss.
In this particular case, the patient's physical exam was largely unremarkable. She was well-appearing but obese with a body mass index (BMI) of 36. Her abdomen was soft, non-distended, and non-tender.
Once the clinical history has raised the index of suspicion for achalasia, several imaging modalities are used to confirm the diagnosis.
Esophagogastroduodenoscopy (EGD) is essential to rule out other causes of mechanical obstruction in the distal esophagus, such as malignancy or peptic stricture, that could produce symptoms of pseudoachalasia. Both of these alternative diagnoses can mimic the symptoms of achalasia but are not managed with myotomy. Ruling out infiltrating malignancies of the esophagus or gastric cardia is of paramount importance in the evaluation of a patient with suspected achalasia. Furthermore, EGD is useful to assess the mucosa for any mucosal inflammatory changes that may affect management.
Esophageal manometry is extremely useful in differentiating achalasia from other esophageal motility disorders. Manometry can be performed as either conventional manometry (CM) with a line tracing or as high-resolution manometry (HRM) with esophageal pressure topography. HRM provides pressure measurements at approximately 1-cm intervals down the esophagus compared to the 3–5-cm intervals of CM. The greater resolution of HRM has allowed clinicians to identify three subtypes of achalasia (based on the Chicago Classification3): 1) Aperistalsis, 2) Pan-esophageal pressurization, 3) Spastic peristalsis.4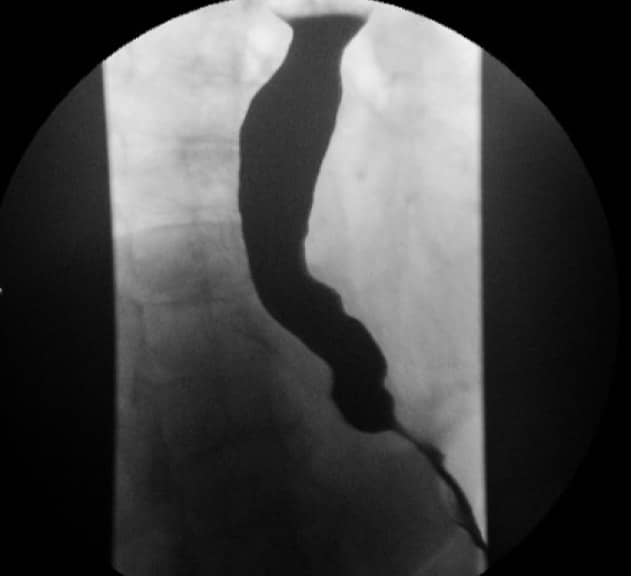 Fig. 1, Barium esophagram demonstrating tapering of the distal esophagus to create the classic "bird's beak" appearance seen in achalasia.
Contrast esophagram (eg, barium swallow) allows for an assessment of anatomic changes to the esophagus that result from achalasia, such as tortuosity, angulation, and degree of dilation. The classic "bird's beak" appearance of the esophagus (Fig. 1) is frequently seen in achalasia. Timed emptying of barium from the esophagus is a very useful modality of quantifying outflow obstruction both before and after therapeutic intervention.
As previously discussed, the underlying pathophysiology of achalasia is due to non-relaxation of the LES. As the disease progresses, dilation of the esophagus is exacerbated; a greater volume of food, liquid, saliva, and air can be retained within the esophagus. As dilation of the esophagus worsens, the esophagus can become tortuous as well. Symptoms progress from initial dysphagia to regurgitation and retrosternal chest pain. Patients with severe disease develop weight loss as a consequence of their dysphagia. Furthermore, irritation of the mucosa from retained particles in the esophagus can lead to mucosal inflammation and may contribute to the 16-fold increased risk of esophageal cancer seen in patients with achalasia.5
Endoscopic pneumatic dilation is one of the first options for treatment of achalasia, but it often requires multiple treatments and carries a risk of perforation.
Endoscopic intrasphincteric injection of botulinum toxin has also been demonstrated to have some effect in alleviating symptoms of dysphagia in achalasia. However, effects wane within a year, and recurrent injection or other forms of treatment are necessary to continue symptomatic relief.6 Botulinum therapy is largely reserved for patients who are unable to tolerate surgical management.
Heller myotomy, which involves division of the muscular layers of the esophagus, is associated with better long-term results in the management of achalasia than either pneumatic dilation or botulinum injection.7,8
Peroral endoscopic myotomy (POEM) has been increasingly utilized to treat achalasia. POEM endoscopically divides the LES muscle fibers similar to laparoscopic Heller myotomy, but the route of access is less invasive as no incisions or trocars need to be used.
The risks and benefits of POEM versus laparoscopic Heller myotomy were discussed with the patient. The patient was diagnosed with Type I achalasia, for which either POEM or Heller myotomy are expected to have similar outcomes. Given the patient was relatively young and healthy with no evidence of mucosal inflammation or disease on his upper endoscopy, the patient was expected to have better results from surgical management of his achalasia than with pneumatic dilation.
Contraindications to performance of POEM include a prior history of esophageal surgery, portal hypertension, and coagulopathy.
Natural Orifice Transluminal Endoscopic Surgery (NOTES) developed as minimally invasive surgeons and endoscopists sought to find less invasive methods for surgical management of disease. Although several NOTES procedures and routes have shown to be safe, feasible, and reproducible in clinical practice, POEM is perhaps the most widely performed NOTES procedure at this time after years of development and research on its safety as well as its short- and long-term effectiveness.9
POEM was first developed in Japan in 200810 (and later introduced in the US in 20109) as an alternative to laparoscopic Heller myotomy (LHM) for the management of achalasia. While an adequately powered randomized controlled trial has yet to be published comparing the outcomes of POEM with LHM, prospective observational studies have established that dysphagia relief rates after POEM range from 83% to 89% with remission of symptoms at one year.11 More objectively, POEM has resulted in a reduction of mean LES pressure by 62%.12,13 As with open and laparoscopic myotomy, the key to successful surgical treatment of achalasia with POEM is to completely divide all circular muscle fibers of the esophagus to allow for relaxation of the LES.
Preoperatively, clinicians may calculate an Eckardt score, a qualitative survey that assesses the severity of symptoms based on degree of dysphagia, symptom duration, and frequency of symptoms such as regurgitation.14 Such scores can be utilized to standardize comparison of symptoms before and after POEM,12,13 and some studies have demonstrated up to an 87% reduction in scores after POEM.12
Nonsurgical approaches to achalasia have varying rates of success with variable risk profiles for complications. The least effective is medical therapy alone. Drugs such as calcium channel blockers and long-acting nitrates function by facilitating smooth muscle relaxation to lower LES pressure. However, the effects are short acting (ranging from 30 to 120 minutes) and offset by pharmacological side effects such as hypotension or headache.15 Endoscopic pneumatic dilation requires repeated, graded intervention to achieve symptom relief rates approaching that of LHM. Furthermore, dilation is associated with a 1.9% risk of esophageal perforation even when it is performed by experienced endoscopists.16
A recent systematic review and meta-analysis comparing LHM and POEM found that relief of dysphagia at 12 months was better in patients who underwent POEM (93.5% relief) versus LHM (91%) and that the difference persisted at 24 months (POEM 92.7% vs. LHM 90%).17 Patients who underwent POEM were more likely to develop symptoms of gastrointestinal reflux disease (GERD) as well as endoscopic findings of GERD such as esophagitis (POEM 47.5% vs. LHM 11.1%), but all of the LHM patients included in this study had also undergone a fundoplication.17 In patients who undergo POEM and develop GERD, a laparoscopic fundoplication can be performed if symptoms are not controlled with pharmacologic therapy alone.
At our institution, we obtain a contrast esophagogram on postoperative day one to rule out leaks and to assess the passage of contrast from the esophagus into the stomach. We also maintain patients on a liquid diet for the first week after surgery given that postoperative edema may affect the passage of solid foods. After one week, patients are cleared to resume a regular diet with solid foods. Routine follow-up is scheduled for two weeks, three to six months, and one year after surgery. We routinely prescribe acid suppression therapy with proton pump inhibitors (PPI) to postoperative patients for a minimum of one year. If patients wish to stop their PPI at one year, we perform a pH study to assess for GERD.
This patient's postoperative esophagogram was unremarkable, and the patient was discharged on a liquid diet for one week. She progressed without issue to a solid diet. Her postoperative follow-up has been unremarkable, and she continues to do well.
We used a forward view HD endoscope, TT knife KD-640L (Olympus, Tokyo, Japan), Transparent Cap MH-588 (Olympus, Tokyo, Japan), and VIO 300D ERBE generator (Tubingen, Germany).
Drs. Meireles and Rattner are consultants for Olympus. Drs. Meireles and Hashimoto have received grant funding from the Natural Orifice Consortium for Assessment and Research (NOSCAR). Dr. Hashimoto is partially funded by the MGH Edward D. Churchill Surgical Education and Simulation Research Fellowship and the National Institute of Diabetes and Digestive and Kidney Diseases (Grant #: T32DK007754-17).
The patient referred to in this video article has given his informed consent to be filmed and is aware that information and images will be published online.
Citations
Burakoff R, Chan WW. Overview of esophageal motility disorders. In: Sugarbaker DJ, Bueno R, Colson YL, Jaklitsch M, Krasna MJ, Mentzer S, eds. Adult Chest Surgery. 2nd ed. New York, NY: McGraw-Hill Education; 2015.
Jobe BA, Hunter JG, Watson DI. Esophagus and diaphragmatic hernia. In: Brunicardi FC, Andersen DK, Billiar TR, et al, eds. Schwartz's Principles of Surgery. 10th ed. New York, NY: McGraw-Hill Education; 2014.
Bredenoord AJ, Fox M, Kahrilas PJ, Pandolfino JE, Schweizer W, Smout AJ; International High Resolution Manometry Working Group. Chicago classification criteria of esophageal motility disorders defined in high resolution esophageal pressure topography. Neurogastroenterol Motil. 2012;24(suppl 1):57-65. doi:10.1111/j.1365-2982.2011.01834.x.
Rohof WO, Salvador R, Annese V, et al. Outcomes of treatment for achalasia depend on manometric subtype. Gastroenterology. 2013;144(4):718-725. doi:10.1053/j.gastro.2012.12.027.
Sandler RS, Nyrén O, Ekbom A, Eisen GM, Yuen J, Josefsson S. The risk of esophageal cancer in patients with achalasia: a population-based study. JAMA. 1995;274(17):1359-1362. doi:10.1001/jama.1995.03530170039029.
Pasricha PJ, Ravich WJ, Hendrix TR, Sostre S, Jones B, Kalloo AN. Intrasphincteric botulinum toxin for the treatment of achalasia. N Engl J Med. 1995;332(12):774-778. doi:10.1056/NEJM199503233321203.
Zaninotto G, Annese V, Costantini M, et al. Randomized controlled trial of botulinum toxin versus laparoscopic Heller myotomy for esophageal achalasia. Ann Surg. 2004;239(3):364-370. doi:10.1097/01.sla.0000114217.52941.c5.
Urbach DR, Hansen PD, Khajanchee YS, Swanstrom LL. A decision analysis of the optimal initial approach to achalasia: laparoscopic Heller myotomy with partial fundoplication, thoracoscopic Heller myotomy, pneumatic dilatation, or botulinum toxin injection. J Gastrointest Surg. 2001;5(2):192-205. doi:10.1016/S1091-255X(01)80033-0.
Horgan S, Meireles OR, Jacobsen GR, et al. Broad clinical utilization of NOTES: is it safe? Surg Endosc. 2013;27(6):1872-1880. doi:10.1007/s00464-012-2736-z.
Inoue H, Minami H, Satodate H, Kudo SE. First clinical experience of submucosal endoscopic esophageal myotomy for esophageal achalasia with no skin incision. Gastrointest Endosc. 2009;69(5):AB122. doi:10.1016/j.gie.2009.03.133.
Von Renteln D, Fuchs KH, Fockens P, et al. Peroral endoscopic myotomy for the treatment of achalasia: an international prospective multicenter study. Gastroenterology. 2013;145(2):309-311.e3. doi:10.1053/j.gastro.2013.04.057.
Inoue H, Minami H, Kobayashi Y, et al. Peroral endoscopic myotomy (POEM) for esophageal achalasia. Endoscopy. 2010;42(4):265-271. doi:10.1055/s-0029-1244080.
Swanstrom LL, Kurian A, Dunst CM, Sharata A, Bhayani N, Rieder E. Long-term outcomes of an endoscopic myotomy for achalasia: the POEM procedure. Ann Surg. 2012;256(4):659-667. doi:10.1097/SLA.0b013e31826b5212.
Eckardt AJ, Eckardt VF. Treatment and surveillance strategies in achalasia: an update. Nat Rev Gastroenterol Hepatol. 2011;8(6):311-319. doi:10.1038/nrgastro.2011.68.
Vaezi MF, Richter JE. Current therapies for achalasia: comparison and efficacy. J Clin Gastroenterol. 1998;27(1):21-35. doi:10.1097/00004836-199807000-00006.
Vaezi MF, Pandolfino JE, Vela MF. ACG clinical guideline: diagnosis and management of achalasia. Am J Gastroenterol. 2013;108(8):1238-1249. doi:10.1038/ajg.2013.196.
Schlottmann F, Luckett DJ, Fine J, Shaheen NJ, Patti MG. Laparoscopic Heller myotomy versus peroral endoscopic myotomy (POEM) for achalasia: a systematic review and meta-analysis. Ann Surg. 2018;267(3):451-460. doi:10.1097/SLA.0000000000002311.
Cite this article
Hashimoto D, Meireles OR, Rattner D. Peroral endoscopic myotomy (POEM) for achalasia. J Med Insight. 2022;2022(127). doi:10.24296/jomi/127.
Procedure Outline
Patient undergoes general anesthesia with endotracheal intubation
Ensure that the endotracheal tube (ETT) is positioned to the side of the patient's mouth to allow for each placement of the endoscope
Patient should remain in supine position
Once the esophagus is intubated, an overtube is advanced over the endoscope to protect the oropharynx from scope trauma, prevent ETT dislodgment, and facilitate multiple removal and insertion of the endoscope if needed
Irrigate Gastric and Esophageal Lumen
Irrigate with bacitracin solution
Irrigation allows you to clearly visualize the lumen of the esophagus and the stomach, decrease bacterial load
Identify Squamocolumnar Junction
Measure the distance from the squamocolumnar junction to the incisors to plan the location of your mucosotomy and the length of your myotomy
Remove the scope and attach the clear distal cap to its end prior to performing the mucosotomy
Check Orientation of Scope
Injection of blue dye into the field (but not into tissues) can help ensure that the endoscope is appropriately positioned to perform an anterior mucosal incision
Correct orientation of the endoscope if necessary
After measurement of the correct distance to pass the endoscopic needle, placement of tape on the endoscopic needle wire allows you to easily find the correct distance to pass the needle
Create Submucosal Cushion
Creating a submucosal cushion allows you to more safely incise the mucosa and reduce the risk of a full-thickness perforation
We aim to create a cushion and subsequent mucosotomy at the 2 o'clock position along the anterior aspect of the esophagus
Suction the selected aspect of the mucosa into the clear distal cap of the endoscope
Carefully insert the needle into the mucosa
Slowly inject blue dye into the submucosa, visualizing the mucosa lifting into a cushion
Create 1.5-cm Vertical Mucosal Incision
Keep the submucosal cushion suctioned into the clear distal cap of the endoscope
Exchange the needle for an endoscopic knife
Using the "Cut" option on the ERBE generator, create a 1.5-cm vertical mucosal incision along the submucosal cushion
The assistant can help position the endoscope to allow the surgeon's endoscopic knife to progress along the intended incision site
Take care to avoid past-pointing the knife and perforating the full-thickness of the esophagus
Visualize circular muscle fibers to ensure complete incision of the mucosa
Once the appropriate mucosal incision has been made, direct the clear distal cap of the endoscope into the incision and point the endoscope downward to prepare for submucosal tunneling toward the stomach
Use Indigo Carmine/Epinephrine Solution to Lift Mucosa off Circular Muscle Fibers
Advance Distally Taking Care Not to Injure Mucosa
Once indigo carmine/epinephrine solution has been used to help elevate the mucosa off of the circular muscle fibers, slowly advance the scope distally
Use the endoscopic knife to gently separate any areolar connective tissue between the mucosa and the circular muscle fibers
You can alternate between injection of solution to lift the mucosa and use of the knife to separate areolar tissue as you progress distally
The palisading vessels of the esophagus act as a landmark to identify the gastroesophageal junction
If progression of tunneling fails, can begin your myotomy of the circular muscle fibers at that point to continue distal progress
Assess Location of Tunnel
Once you complete the submucosal tunnel, exit the tunnel and insert the endoscope back through the lumen of the esophagus
Assess the length of the submucosal tunnel relative to the squamocolumnar junction to ensure appropriate length of the tunnel
Once confirmed, re-enter the submucosal tunnel
Start at Convenient Point and Proceed Distally
Selective Myotomy of Circular Muscle Fibers
Use the endoscopic knife to carefully divide the circular muscle fibers, starting 5 cm above the lower esophageal sphincter and extending 3 cm beyond it
Take care to avoid large vessels within the wall of the esophagus
Avoid injury to the mucosa
Reassess Integrity of Mucosa
Once myotomy has been completed above and below the squamocolumnar junction, pass the endoscope through the lumen of the esophagus to assess the integrity of the mucosa
Multiple clips are used to close the length of the mucosal incision
If a full-thickness injury occurs, ensure that the submucosal tunnel is closed adequately
Transcription
CHAPTER 1
So the procedure is called POEM, which stands for Peroral Endoscopic Myotomy, which is a way to perform esophageal myotomy purely in the lumen through the mouth without any incision to the abdomen like it used to be traditionally performed. In the past those surgeries were going from open to laparoscopic procedures with tiny little incisions, now it's done purely through the mouth. The procedure consists of using an endoscope of high-definition making an opening of the mucosa of the esophagus about 1.5 cm, and that's located 10 cm above the lower esophageal sphincter. Through that mucosotomy, we develop a submucosal tunnel. That tunnel is then advanced beyond the lower esophageal sphincter and about 2-3 cm into the stomach, into the cardic area. Then the scope is removed. The tunnel is inspected for the integrity of the mucosa. If there is any injury to the mucosa, we just place clips to avoid a through-and-through perforation and that probably occurs in about 2-3% of the cases. Then once all the tunnel has been inspected, and there was no problems, we then go to the myotomy portion, which we start 5 cm above the lower esophageal sphincter and advance 2-3 cm below the lower esophageal sphincter through the tunnel which was created. We perform a circular muscles myotomy, but a lot of the times, the longitudinal fibers also is cut, which is absolutely fine. In Japan and China, they do that all the time, At the end of the procedure, we place clips, interruptedly with about 7 clips to close the mucosotomy and finish the case.
CHAPTER 2
Okay, so let's go into the esophagus. Mm hmm. Wow. Yeah, exactly. I have another one like this they insist has achalasia that a barium tablet went through. Really? Yeah.
True trendelenburg, yes please. That's good there. Wow, okay. Okay, so that's right about whatever this mark is - I'd say we're right - that's it right there. Yeah I did. So that's 60, 55, 53.5, basically yeah. Okay, so if we come back 10, that's 50, 45, 43. Okay? All right.
Okay, Neal I'm just - I'll tell you what, let's - give me a little bit of blue stuff, right here, give me a little squirt. Okay, so that needs to be changed to that. Okay, that's good there. So let's just put the piece of tape on right now. Put it - hold on a second Elon, let me just see. So if we put it here… That's too far. Maybe let's just get this back in view. So we should probably - We want to be able to get this, so probably you're going to feel that right about here. So probably right about here should be fine. Great, okay. Okay, let's have some blue again please. Okay, good. Okay, needle out. Put a little bit more in, Elon. Okay. Okay, needle out. Okay. Inject, slowly.
You're off, stop. Stop. You want to bring the needle back and just pierce that. Okay. Almost through-and-through and then you pull back. There you go, now pull back slowly. Yep. Inject. Yep. Pull back. Pull back, pull back, pull back. Okay. Keep pulling back. We're going to find the right position. Pull back, very good. Yep. Keep going. Pull back a little bit more. See, now it's out - you can see that. Okay, stop. Needle in.
Okay, knife out. I'm going to suck on this right? Right, yellow. Yellow. So let's go - down a little bit in there. Go up just a hair because - right there. Okay. Keep moving me. Right, let's go down. More down. You have to do it. Yep. Nice. Good, yeah. Keep going. Push it in. Good, push back in a little bit. Pull back. And that's about it. The one thing you can control yourself is the section towards you. See this is - a lot of this is - happens from here. Like that. Okay. Because there's just so little degrees of freedom here. We need to get down towards 6 o'clock here. We need to get more room there, I think Right there. Pull back. I'm just going to get this area right in here. Yep. Should I cut the mucosa right there? Yeah, cut it right there. And also, I need you to cut over here. Let me pull back. Yep. Good, stop right there. There you can spray. Let's inject more blue because we lost somewhere. Yep. Yep. We can check right now. Yeah, see, I think we're almost all the way through. I'll inject. About 3 cc. That's good right there. Hook that. Yep. Actually, I think that's big enough, huh? Just hook that over that. Okay. Let me just find that little in there. Because there's the circular muscle, so we're good. Yep. So let me try to get this in. All right, I'll get this in for you. You need to go right here. This is what's got to go, right here. If we can get to it. Pull back a little bit.
CHAPTER 3
There you go. That's going to be a big step forward. All right Ozanan, I'll twist this thing in if I can. Okay, so now it should be in. Deflect down, just deflect down. And go up. Okay, yep. I'm just going to make like 2 cm, I'll give it to you. Okay, yep. Okay, great. Push it in and down. And down, yep. Okay, so… All right, let's switch here. Let's have the blue now, please. Yep. Okay, Elon. Check about 2 cc, please. Okay, good, stop there.
Keep going - advance - let's get this thing right down here next. This is holding us. Yep. It's close to mucosa though. Yeah. Can you advance it? That's good there. Will that stay? Let me get you closer. That's definitely muscle there. Just pull it back and try to grab this Okay. Now we're just about through, I think. There we go. Back down the tunnel. The stuff right up here, or no? No, I don't think… Palisading vessels there, yeah. I don't think that's necessary to take these. Yeah, well, I think we need to take - we need to open this up, so… Yeah, up to the level of S1. That's a good little inchworm move there. To the right? Yeah, to the right. I think we're going to have to zap that vessel before it bleeds in our face. Right there, right? Yeah. Spray. Yep. Yeah, but touch it. You can spray like a little bit lower. A little bit lower. There you go. So those are myotomized already. You want to be below this. Maybe we can inject again. Let's see - Let's go inside the mucosa and see how it - what we're doing. Okay, how far away are we? We're about 55? Yeah. Okay, let's see - is there anything here easy we can take while we're sitting here? Well, my only concern is that you need to get this plane right here. Right, exactly, exactly. And then getting it off, so we need to inject blue over here. Yep. Let's inject right now. And then we can go back in look, yeah, I think so. Pull back just a touch here. Let's see here. I would. Looks like we should go right here. I was thinking almost right here. See this hole right there? Yeah, but let's see that hole again, let's see if that's muscle. See, there's muscle on the other side of that. So get right down here is what you want, right? Yeah, then you have to apply gentle pressure. Yep okay, Elon, inject very slowly. Can I have the tiki knife, please. Okay, knife out. Pull back a little bit. Isn't this muscle right here? Here is muscle, right there. There's muscle, and then there's a very thin layer between the submucosal space, that's where we want to go. Yeah. Okay, pull back. I don't know about this, what do you think? There's some mucosa on the other side of that I know, but so close your needle right now. And just go and just probe it very gently. Just go a little bit more than that. See, those are fibers, right there. So the thing is, we should be raising a tunnel here. I'm just going to sort of scratch this downward - deflect downward with that, just because of rubbing it. I think we should just cut this right here. To do the myotomy? Sure. Yeah, right there. But then we are - the only downside is it's going to be like the other case, even if - and be able to ford a good tunnel because then... Okay. All right, so what do you want to do here? I want to just inject. All right, needle in. Now what you want to do is literally just - you see this submucosal tissue, right here? Yeah, right there. Inject on it, it's going to go… You happy with that, right about there? Just a little bit more. Okay starting to inject some more. Now, stop. Back the needle in. Needle back in. Needle in. Now we're going to apply pressure here where you made the hole. Okay, inject. Inject. You should get something. Okay, knife out. Yep. Yep, advance - push it in, Ozanan. Bring me across a little bit. Rotate me. Cross in between and back a little bit for that. Now we can put blue right there. Yep. I wonder if we can get any of this stuff right here while we're at it. Can you rotate the scope and see? Come back, okay. That's yes up here, right? Mm hmm, because there must be muscles on top so that's fine right there. Looks too blown out. Okay. Can I get this little band right here or not? Or - no. Okay, all right let's go, okay. Pull this back a little bit. So what we're going to do is we're going to pull this back, just stretch it very gently. There we go. You're in there. Okay, inject. Needle out. You have to take this right here - you have to take it. It's right on the muscle. That muscle. But that's okay, let's get back on it again. Now pull back slightly. Mm hmm. Pull back, pull back, pull back, let me rotate to the side. Can you deflect to the left a little bit? Back in a little bit. Deflect down. So now what we can do is from here - take that. Because that would be enough right there to do the myotomy. Yep. Okay. That's better. Mm hmm. Okay. Push in a little bit. Let's just reassess our tunnel right now. All right, knife in. Let's take this out.
One thing's for sure the lower end of that myotomy is in the fat. Yeah. Mm hmm. Yeah. Mm hmm. And we did go past the palisading vessels, so there's some hope there. Here, there we go. Okay. So you just kept twisting. I just kept twisting and I lost the curvature. Okay. And then plus, I'm going to take that directional flexion right now. Mm hmm. I'm going to pop it out. Because this is too sharp - our angle is too sharp. Okay. The other thing too is that if you go too far in retroflex, then you go to the... All right. All right, so we're down there. We can see that, definitely. And now we pull back here. There we go right there. Mm hmm. And the distance of this tunnel is - through here, from the cap in centimeters, so… So… So what is that - keep coming back - what is that right now? So that's 50. So it's 4 cm each. So it's 4 cm before squamocolumnar, so that ought to be enough. Yeah, mm hmm. All right. Because then you go back there and finish the myotomy. All right. Let me just put that there. Yep.
CHAPTER 4
Okay so start right here. Knife out. Make sure that we connect with the other myotomy. There's a big vein right there. So let's just stay here, on this side.
Okay. Mm hmm. Can you deflect to the left a little bit? I think so too. There we go, that's the line we want to go to. Right here, right? Mm hmm, keep going. Like that? Mm hmm. Right there… Okay, I see that. Yep. That's longitudinal muscle. Okay. A little bit more - we got a few more fibers right here that'll have to go. That's the end of the... Yep. Well that's - let me pull back. Okay, ready? Mm hmm. Get this one up on top. Should we do the vessels behind it? Okay. I'm just pushing. Oh that's empty space there, right? Yeah, that's… Perineum, yeah. Yeah. Okay, so we're good there. Okay, all right, fine. Pull back.
Pull back - pull back - pull back - pull back - that's myotomy - that's myotomy - that's myotomy - go a little bit more up here. Okay. Yeah, let's make sure we have plenty. I think Elon's right - I think our measurements are off. I think you should cut from here to there. Knife out. You want me to push it in? Mm hmm. That's all the way through. Yeah. Maybe just… Maybe just stop. Let's get the - Well that's circular muscle right there, right? It kinda looks like it - let's just cut this and… Yep. Knife out. Go back just a little bit. Okay, good. There you go, and that's it. Then just push it. Good, okay good. I think that's pretty good. I think we're good. Okay.
CHAPTER 5
At your 2 o'clock. Got to rotate it. Good, okay. It's not that bad of a the tunnel - I mean it's… No, no. Advance this. I'll hold the scope for you. All right, it's up to you. Yeah… All right. Pull this back a little bit. You kind of want to have this open inside your cap first. Take your tip and deflect up with the tip of the scope. Yep. You know what? Let's see. So move the scope back down right now. And just hold there. It's okay for an… That's okay for a starting point I think, yep. All right. All right. Mm hmm. Clip's open. And then what I'm doing is I'm going to be deflecting up. Pushing it in, and then close. Close. Okay. So now whenever I just check. Test. It's okay.
CHAPTER 6
All finished. That was a peroral endoscopic myotomy. The case went pretty smoothly. A little trouble at the start getting the tunnel established, but once we got in, I think everything went pretty smoothly. I hope that you could appreciate on that video how things tightened up as we came across the lower esophageal sphincter and the palisading vessels, but once we got through that, everything went very easily. It's okay to go full-thickness through the esophagus as long as the tunnel itself is closed adequately, which you could see. We'll get a gastrografin swallow tomorrow morning, make sure that there is no endoleak or problem with the tunnel, and if so, the patient will go home on a liquid diet for a week, and her achalasia should be fixed.