Rives-Stoppa retromuskuläre Reparatur für Inzisionshernie
Main Text
Es gibt keinen Konsens über die optimale Methode der ventralen Hernienreparatur und die Wahl der Techniken wird typischerweise durch eine Kombination von Patientenfaktoren und chirurgischer Expertise diktiert. Komponententrennungstechniken ermöglichen den medialen Fortschritt des Musculus rectus abdominis, um einen spannungsfreien Faszienverschluss in der Mittellinie zu erzeugen. In diesem Fall beschreiben wir eine posteriore Bauteiltrennung mit retrorectus Netzplatzierung, auch Rives-Stoppa retromuskuläre Reparatur genannt. Mit niedriger Morbidität und Mortalität bietet diese Technik eine dauerhafte Reparatur mit niedrigen Rezidivraten und Infektionen an der Operationsstelle, während sie dynamische Muskelunterstützung und physiologische Spannung bietet, Eventration verhindert und den Einbau von Netzen in die bestehende Bauchdecke ermöglicht.
Bauchwandhernien betreffen schätzungsweise fünf Millionen Amerikaner pro Jahr. Hernien bilden sich als Folge eines Verlustes der strukturellen Integrität der Bauchdecke. Die besten verfügbaren Schätzungen deuten darauf hin, dass etwa ein Drittel aller Hernienreparaturen in den Vereinigten Staaten für ventrale Hernien und von allen reparierten ventralen Hernien zwei Drittel primäre ventrale Hernien und ein Drittel Inzisionshernien sind. 1 Bindegewebserkrankungen, Fettleibigkeit, Rauchen, Steroidkonsum, Diabetes und andere Faktoren können Patienten für die primäre Hernienbildung prädisponieren, während Inzisionshernien per Definition aus dem Zusammenbruch des Faszienverschlusses resultieren. Risikofaktoren für die Bildung von Inzisionshernien sind Patientenfaktoren, wie oben, sowie technische Faktoren zum Zeitpunkt der Indexoperation, wie Wundinfektion, die Technik des Faszienverschlusses, die Art der Operation und die Wahl des Schnitts. Sobald sich eine Hernie gebildet hat, ist ihre natürliche Geschichte eine fortschreitende Vergrößerung aufgrund einer Zunahme der Wandspannung an der Stelle der Hernie. Die Hernienreparatur sollte bei symptomatischen Hernien stark in Betracht gezogen werden und ist eine Notwendigkeit für inhaftierte Hernien, die zu einem Darmverschluss oder strangulierten Hernien führen. Schätzungsweise drei Milliarden Dollar werden jedes Jahr für Gesundheitsausgaben im Zusammenhang mit Bauchdeckenbrüchen ausgegeben. 2, 3 In diesem Fall führen wir eine Rives-Stoppa-retromuskuläre Reparatur für einen symptomatischen Schnittbruch durch.
Dies ist eine 76-jährige Frau mit einer Vorgeschichte eines Bauchaortenaneurysma-Status nach endovaskulärer Reparatur, chronisch obstruktiver Lungenerkrankung sowie einer rechten Kolektomie für Darmkrebs, die zu einer Inzisionshernie führt, die sich für eine elektive Hernienreparatur präsentierte. Die Patientin befand sich in ihrem gewohnten Gesundheitszustand bis Mai 2017, als eine Screening-Koloskopie einen rechten Darmkrebs identifizierte. Im Juni 2017 hatte sie eine laparoskopisch unterstützte rechte Kolektomie, gefolgt von Chemotherapie und Bestrahlung zur Behandlung eines T4N2-Kolon-Adenokarzinoms. Ihre Kolektomie wurde durch einen großen Schnittbruch kompliziert, und ihre Chemotherapie wurde durch Anorexie und signifikanten Gewichtsverlust kompliziert. Während der Überwachung wurde festgestellt, dass sie ein 5,2 cm großes infrarenales abdominales Aortenaneurysma entwickelt hatte, für das sie sich im September 2018 einer endovaskulären Reparatur unterzog. Ihre Hernie vergrößerte sich im Laufe der Zeit allmählich und war zunehmend symptomatisch, was ihre Aktivitäten des täglichen Lebens beeinträchtigte. Die Reparatur mit retrorectus Netzplatzierung wurde elektiv geplant. Ihr präoperativer Body-Mass-Index betrug 20,2, Serumalbumin 4,0 g / dl und ihr Status der American Society of Anesthesiologists (ASA) war 3. Bei einem mit Stuhl gefüllten und aufgeblähten Dickdarm bei präoperativer axialer Bildgebung wurde eine präoperative Darmvorbereitung gegeben, um den Dickdarm zu dekomprimieren. Cefazolin und Enoxaparin wurden präoperativ verabreicht.
Bei der Untersuchung wurde festgestellt, dass sie einen weichen Bauch mit einer großen ventralen Hernie hatte, die reduzierbar und nicht zart war, ohne darüber liegende Hautveränderungen.
Die abdominale Computertomographie (CT) zeigte eine fortschreitende Vergrößerung einer mittellinienförmigen, zentralen abdominalen ventralen Hernie mit Dünn- und Dickdarm ohne Anzeichen einer Darmkompromittierung oder einer vorgeschalteten Darmerweiterung. Es zeigte auch ihre vorherige rechte Kolektomie und endovaskuläre Reparatur ihres infrarenalen abdominalen Aortenaneurysmas (Abbildung 1).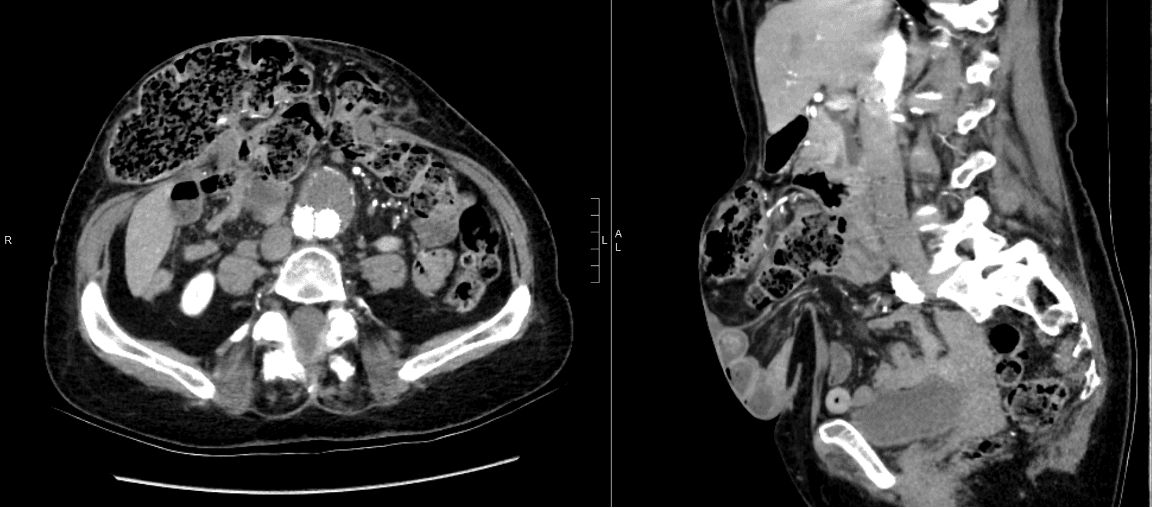 Abbildung 1: Präoperativer abdominaler CT-Scan des Patienten. Die axiale Ebene (links) und die sagittale Ebene (rechts) des CT-Scans zeigen eine vorherige Rechtskolektomie und eine vorherige endovaskuläre Reparatur des infrarenalen Bauchaneurysmas des Patienten.
Ventrale Hernien müssen nicht repariert werden, es sei denn, sie sind symptomatisch, da Darmverschluss und Strangulation selten sind. Selbst bei symptomatischen Patienten müssen nicht alle Hernien repariert werden, da eine nicht-operative Behandlung eine sichere Alternative ist. Die Komplexität der Reparatur, die Komorbiditäten des Patienten und die Schwere der Symptome tragen zum Risiko-Nutzen-Profil für einen bestimmten Patienten bei. Ein internationales Konsortium von Hernienspezialisten identifizierte den Raucherstatus, Fettleibigkeit (Body-Mass-Index größer als 35), ASS-Status 3 oder höher, frühere Infektionen an der Operationsstelle, oberflächliche Hautveränderungen und enterokutane Fistelbildung als die relevantesten Risikofaktoren, die das operative Ergebnis nach ventraler Hernienreparatur beeinflussen. 4 Hernienexperten sind sich einig, dass die elektive ventrale Hernienreparatur nicht für Patienten mit einem Body-Mass-Index von 50 oder mehr ohne Gewichtsverlustintervention, für aktive Raucher oder für Patienten mit glykosyliertem Hämoglobin (HbA1c) >8% empfohlen wird. 4 bis 6
Im Rahmen der akuten Inhaftierung oder Strangulation ist eine dringende chirurgische Reparatur die Behandlung der Wahl und kann die einzige Option sein, selbst bei Hochrisikopatienten, denen möglicherweise keine elektive Reparatur angeboten wird. Das Ziel der dringenden Reparatur ist es, akute Schmerzen und Darmverschluss, falls vorhanden, zu lindern und Darminfarkt zu verhindern oder zu behandeln. Die optimale Reparaturtechnik hängt von der genauen Situation ab, einschließlich Ernährungszustand, akuter Physiologie und Vorhandensein von Kontamination, unter anderem Faktoren. Im Allgemeinen gilt: Je größer der Grad der Patientenkomorbidität ist, desto einfacher sollte die Reparatur unter dringenden Umständen sein. Gelegentlich kann ein gut ernährter Patient ohne schwere physiologische Störung oder Kontamination akut auftreten und immer noch ein Kandidat für eine komplexe, endgültige Reparatur sein.
Es gibt zahlreiche Techniken zur Reparatur von ventralen oder inzisionellen Hernien der Mittellinie. Hernienreparaturen können mit oder ohne Netz und in offener, laparoskopischer oder robotergestützter Weise durchgeführt werden. Mesh kann als Unterlage (unterhalb des Peritoneums), Unterlage (zwischen den Rektusmuskeln und der hinteren Rektusscheide), Onlay (oberhalb der Faszie) oder Inlay (zwischen Faszienrändern) platziert werden.
Gemäß den Richtlinien sollte die Netzreparatur für Defekte >1 cm in Betracht gezogen werden und wird für Defekte >2 cm empfohlen.5 Die Netzreparatur entlastet die Spannung von der Bauchdecke. Mehrere randomisierte Studien zeigen niedrigere Rezidivraten mit Mesh. 7 bis 9 Mesh ist jedoch mit einer höheren Rate von Komplikationen, einschließlich Infektionen, Erosionen und Fisteln, verbunden als Reparaturen ohne Mesh. 7, 10, 11 Eine registerbasierte Kohortenstudie in Dänemark zeigte, dass die Netzreparatur mit weniger Reoperationen für Rezidive verbunden war (offenes Netz 12,3%, laparoskopisches Netz 10,6%, Nicht-Netz 17,1%). 12 Bei einer fünfjährigen Nachbeobachtungszeit betrug die kumulative Inzidenz von netzbedingten Komplikationen 5,6 % bei Patienten, die sich einer Reparatur des offenen Netzes unterzogen hatten. 12
Herniennetz kann im Allgemeinen in zwei große Klassen eingeteilt werden: synthetisch und biologisch. Gewebeeinwuchs und Haftung von synthetischen Netzen sind ansprechend; Es hat jedoch den Nachteil, dass es zu Verklebungen an serosalen Oberflächen kommt. Einige synthetische Netzprodukte enthalten Antiklebstoffe an der Seite des Netzes in Kontakt mit den Eingeweiden, um eine intraperitoneale Platzierung mit weniger Bedenken hinsichtlich der Gewebeerosion zu ermöglichen. Biologisches Netz bietet eine Alternative für den Einsatz in einem kontaminierten Feld und kann die Schwere von Wundinfektionen und die Notwendigkeit einer Netzexplantation bei Infektionen im Vergleich zu synthetischen Netzen reduzieren. Trotz dieser theoretischen Vorteile wurde das Dogma, dass biologisches Netz in einem infizierten Bereich dem synthetischen Netz vorzuziehen ist, zunehmend unter die Lupe genommen, was zum Teil auf hohe Kosten sowie hohe Rezidivraten und Komplikationen im Zusammenhang mit biologischem Netz zurückzuführen ist. Jüngste Studien bieten zunehmende Unterstützung für die Eignung von synthetischen oder biosynthetischen Netzen in kontaminierten Umgebungen und stellen gleichzeitig die angeblichen Vorteile von biologischen Netzen in Frage. 13–15
Kopf-an-Kopf-Vergleiche von offenen und laparoskopischen Techniken zur Hernienreparatur waren Gegenstand vieler randomisierter Studien. Eine systematische Überprüfung aus dem Jahr 2014 zeigte niedrigere Raten von Wundinfektionen und -drainagen, aber höhere Raten von Darmverletzungen bei laparoskopischen im Vergleich zur offenen Reparatur. 16 Ein Cochrane-Review und eine anschließende Meta-Analyse kamen zu den gleichen Schlussfolgerungen. 17, 18 Umstände, unter denen eine laparoskopische Reparatur von Vorteil sein kann, können große Herniendefekte, der Verdacht auf mehrere Defekte und Fettleibigkeit sein. Mit der Verbreitung von robotergestützten chirurgischen Plattformen sind robotergestützte Hernienreparaturen häufiger geworden. Während sie eine ähnliche Reihe von Indikationen wie die laparoskopische Reparatur haben, verbessert die robotergestützte Hernienreparatur nicht die Ergebnisse, verlängert jedoch die Betriebszeit und erhöht die Kosten. 19, 20
Große oder komplexe Bauchwanddefekte stellen ein besonders herausforderndes chirurgisches Problem dar. Die European Hernia Society stufte Hernien mit einem Defekt von >10 cm als groß ein. 21 Die Wahl der Technik zur Behandlung großer oder komplexer Herniendefekte wird häufig durch das Fachwissen des Chirurgen und die Umstände des Patienten bestimmt. Die posteriore Komponententrennung mit retrorectus mesh placement bietet die Vorteile niedriger Rezidivraten, niedriger Raten von Wundkomplikationen wie Seromen oder Infektionen und einer hervorragenden Integration von kostengünstigem, unbeschichtetem Netz in die Bauchdecke.
Die Schritte einer hinteren Bauteiltrennung mit Netzplatzierung sind wie folgt:
1) Schnitt und Zugang zur Bauchhöhle
2) Herniensackdissektion und Exzision
3) Sezierung und Verschluss der hinteren Rektusscheide
4) Netzplatzierung
5) Platzierung des Abflusses
6) vorderer Rektus Mantelverschluss
7) Hautverschluss
Sobald der Zugang zur Bauchhöhle erreicht ist, kann je nach Grad der Adhäsionen eine Adhäsiolyse erforderlich sein. Sobald die Eingeweide frei von der Bauchdecke sind, muss der Herniensack von der Bauchdecke und Faszie abgetrennt werden. Wir verwenden stumpfe Dissektion, um den Herniensack abzuschälen, was eine schnelle Dissektion in der richtigen Ebene erleichtert und so die maximale Dicke der darüber liegenden Haut und des subkutanen Fettes bewahrt. Der Herniensack wird typischerweise entlang des Faszienrandes ausgeschnitten, kann jedoch bei geplanten Retrorektusreparaturen erhalten bleiben, um als zusätzliches Gewebe für den hinteren Scheidenverschluss verwendet zu werden. Die hinteren Rektusscheiden werden dann eingeschnitten und die hintere Faszie wird vom Rectus abdominis getrennt. Dadurch entsteht der Raum, in den das Retrorektus-Netz eingelegt wird. Diese Dissektion wird seitlich zur Linea semilunaris, der lateralen Grenze des Musculus rectus abdominis, durchgeführt. Während diese Dissektion auftritt, stoßen perforierende Gefäße aufeinander. Medizinisch müssen diese geopfert werden, um diesen Raum zu entwickeln, aber seitliche Perforatoren sollten erhalten bleiben. Die untere Sezierung unterhalb der bogenförmigen Linie tritt in den Raum von Retzius ein und kann sich bis zu Coopers Bändern erstrecken. Die überlegene Dissektion im subxiphoiden Raum kann eine Herausforderung darstellen, da sich die hintere Hülle vom hinteren Aspekt der Linea alba lösen muss, ohne in die vordere Faszie einzudringen. Sobald beide Seiten an den oberen und unteren Teilen der Dissektion verbunden sind, ist die hintere Rektusscheide geschlossen. Die Scheide wird laufend geschlossen, wobei kleine Bisse dicht beieinander angeordnet sind, um die Spannung zu verteilen. Diese Schicht des Verschlusses dient nicht der Festigkeit, sondern dient dazu, eine Schutzschicht zwischen dem Netz und den intraabdominalen Eingeweiden bereitzustellen. Die hintere Hülle kann unter anderem aufgrund mehrerer Hernienstellen, früherer Reparaturen und Ostomien schwach und dünn sein. In diesem Fall verwenden wir eine sukzessive Bisektion mit einer unterbrochenen Zahl von acht Nähten, um uns der dünnen hinteren Hülle anzunähern. Wenn die hintere Hülle in der Mittellinie nicht geschlossen werden kann, kann eine transversus abdominis Freisetzung durchgeführt werden, die Lücke kann mit dem Herniensack überbrückt werden (der zu Beginn des Falles erhalten bleiben muss, wenn dies möglich ist), oder alternativ könnte ein beschichtetes Netz verwendet werden. Sobald die hintere Faszie geschlossen ist, wird die Aufmerksamkeit auf die Netzplatzierung gerichtet. In diesem Fall verwendeten wir ein 30x30 cm großes Polypropylengewebe, das auf Maß geschnitten wurde und den Retrorektusraum von der halbmondförmigen Linie zur halbmondförmigen Linie und vom Rippenrand bis zum Schambein füllte. Polypropylen-Mesh hat den Vorteil, dass es eine schnelle Einarbeitung auf beiden Seiten des Mesh ermöglicht. Das Netz wird mit transfaszialen Nähten durch die vordere Faszie befestigt. Es sollte darauf geachtet werden, dass die transfaszialen Nähte so platziert werden, dass sie die Spannung gleichmäßig über das Netz und den Schnitt verteilen. Das Netz wird an den oberen und unteren Aspekten und dann nacheinander auf beiden Seiten gesichert, abwechselnd auf den Seiten, um eine gleichmäßige Spannung zu gewährleisten. Variationen in dieser Technik sind üblich - einige Chirurgen heften das Netz an die vordere oder hintere Faszie, ohne transfasziale Nähte zu platzieren, und einige verwenden überhaupt keine Nähte, die sich auf die Reibung des Netzes verlassen, um es an Ort und Stelle zu halten. Abflüsse, in diesem Fall zwei 19-polige Blake-Abflüsse, werden dann in den Rektoroktusraum über der Ebene des Netzes gelegt. Die vordere Faszie wird dann laufend über die Oberseite des Netzes geschlossen und entwässert. Dies ist eine Kraftschicht, und die Faszie sollte ohne übermäßige Spannung zusammenkommen. Redundante Haut wird dann entfernt, der subkutane Raum wird bei Bedarf entwässert und die Haut wird geschlossen.
Die Komponententrennung wurde erstmals 1990 beschrieben. 22 Dieser Begriff, der für mittelgroße oder große Hernien verwendet wird, umfasst eine Vielzahl von Techniken mit muskulofaszialen Vorschubklappen, um eine mediale Fortbewegung des Musculus rectus abdominis zu ermöglichen, um einen spannungsfreien Faszienverschluss in der Mittellinie zu erzeugen. Die Bauteiltrennung kann mit oder ohne Netz erfolgen; Die Rezidivrate bleibt jedoch allein bei der Nahtreparatur höher. Komponententrenntechniken können bei Herniendefekten von bis zu 20 cm und manchmal sogar größer angewendet werden, wenn eine sekundäre Freisetzung oder ein zusätzliches Netz verwendet wird, um den verbleibenden Defekt zu überbrücken.
Die anatomischen und funktionellen Elemente einer Komponententrenntechnik umfassen (1) die Übersetzung der Muskelschicht der Bauchdecke zur Vergrößerung der Gewebeoberfläche; (2) Trennung der Muskelschichten, um eine maximale Ausdehnung jeder einzelnen Muskeleinheit zu ermöglichen; (3) Trennung der Muskeleinheit von ihrer Faszienscheide, um die Expansion zu erleichtern; (4) Verwendung der Bauchwandmuskulatur zur Abdeckung des intraabdominalen Inhalts; und (5) Einsatz bilateraler Mobilisierung, um die Kräfte der Bauchdecke auszugleichen und die Mittellinie zu zentralisieren. 22, 23 Die Komponententrennung kann unter Verwendung eines vorderen oder hinteren Ansatzes mit oder ohne sekundäre Freigabe durchgeführt werden, um zusätzliche Fortschritte zu erzielen. Die Wahl der Technik hängt in der Regel von der Erfahrung und dem Fachwissen des Chirurgen ab, da es beiden gelingt, das mediale Fortschreiten des Rektus zum Verschluss großer und komplexer ventraler Hernien zu erleichtern. Eine vordere Komponententrennung beinhaltet die Teilung der äußeren schrägen Aponeurose, um das Vorrücken des Muskellappens zur Mittellinie zu ermöglichen. 24 Die vordere Technik wird jedoch gewöhnlich mit der Bildung großer subkutaner Lappen durchgeführt und hat daher häufigere Wundkomplikationen, obwohl perforatorerhaltende und endoskopische Techniken einige dieser Probleme mildern können. 25 Die äußere schräge Freisetzung führt auch zu einer seitlichen Störung einer Schicht der Bauchdecke und erfordert eine intraperitoneale Unterlage oder ein Onlay-Netz, wenn das Netz verwendet werden soll. 24 Dies steht im Gegensatz zu der im vorliegenden Fall angewandten Technik der Trennung der hinteren Komponenten, bei der alle Schichten der Bauchdecke erhalten bleiben und keine großen subkutanen Lappen vorhanden sind. Bei größeren Hernien kann die in diesem Fall verwendete Technik durch den Einsatz einer transversus abdominis release (TAR) erweitert werden, die eine umfangreichere Mobilisierung der seitlichen Bauchdecke zur Mittellinie ermöglicht und die Platzierung größerer Netzprothesen auf Kosten einer lateralen Störung einer Schicht der Bauchdecke (in diesem Fall der transversus abdominis) ermöglicht. 24-27
Viele befürworten die Verwendung von Netzverstärkung während einer Komponententrennung, die weitgehend auf der Extrapolation der oben genannten Vorteile von Netzen zur Verringerung der Hernienrezidivraten bei ventralen Hernien basiert. Eine Vielzahl von synthetischen und biologischen Netzprodukten wurde verwendet. Es gibt keine große randomisierte Kontrollstudie, die die Komponententrennung mit und ohne Netzreparatur vergleicht. Eine posteriore Komponententrennung erleichtert die Platzierung des Netzes in einer extraperitonealen Sublay-Position, wenn das Netz verwendet werden soll. Theoretisch ermöglicht dies den Einbau von vaskularisiertem Gewebe in beide Seiten und kann zu niedrigeren Rezidivraten führen. Wie bereits erwähnt, kann diese Position in Kombination mit der Vermeidung großer subkutaner Lappen Wundkomplikationen im Vergleich zur Trennung der vorderen Komponente reduzieren, obwohl direkte Vergleichsdaten spärlich sind. 28
Patienten mit einem unkomplizierten Verlauf werden in der Regel zwischen drei und fünf Tagen zur Schmerzkontrolle und Diät ins Krankenhaus eingeliefert. Abflüsse werden basierend auf ihrem Standort, der Dauer der Zeit an Ort und Stelle und der Ausgabe pro Tag entfernt. Körperliche Aktivität ist oft kurzfristig eingeschränkt, obwohl dies nicht gründlich untersucht wurde. Morbidität und Mortalität im Zusammenhang mit der Trennung der hinteren Komponente sind selten. Für große oder komplexe ventrale Hernien berichtete eine Studie mit Komponententrennung zur Reparatur einer ventralen Hernie bei krankhaft adipösen Patienten, dass die schwere perioperative Morbidität 8% und die perioperative Mortalität 1% betrug. 25 Die Morbidität ist weitgehend auf Infektionen an der Operationsstelle, Serome/Hämatome und Hautlappennekrose zurückzuführen, die variabel auftreten. Es gibt begrenzte Studien mit Langzeit-Follow-up nach Komponententrennung, aber die Rezidivraten für die Komponententrennung mit Mesh scheinen weniger als 10% zu betragen.
Der oben beschriebene Fall wurde in knapp zweieinhalb Stunden mit einem geschätzten Blutverlust von 75 ml abgeschlossen. Sie hatte einen unkomplizierten postoperativen Kurs und wurde am postoperativen Tag (POD) 4 nach Hause entlassen. Sie wurde in der Nachuntersuchung gesehen und hat sich ohne Schwierigkeiten erholt. Ihre Abflüsse wurden am POD 13 und POD 17 entfernt. Sie hatte eine axiale Intervallbildgebung für die Überwachung des abdominalen Aortenaneurysmas, die die Integrität der Reparatur demonstrierte (Abbildung 2).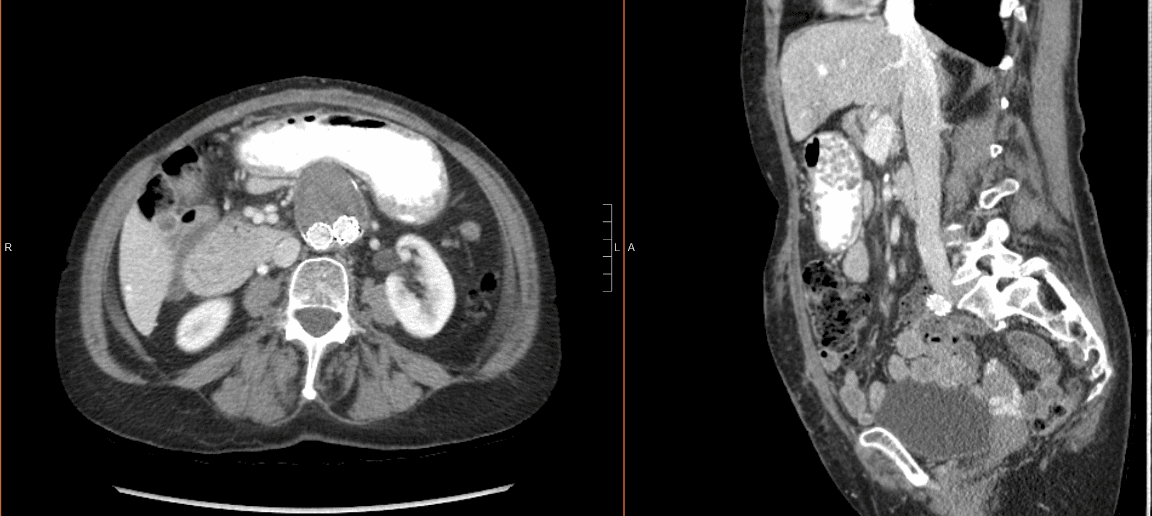 Abbildung 2: Postoperativer abdominaler CT-Scan des Patienten. Die axiale Ebene (links) und die sagittale Ebene (rechts) des CT-Scans zeigen die Integrität der Reparatur der ventralen Hernie.
Laparoskopischer Nahtpasser oder Reverdin-Nadel
30x30 cm Polypropylengewebe
Nichts zu offenbaren.
Der Patient, auf den in diesem Videoartikel Bezug genommen wird, hat seine Einverständniserklärung gegeben, gefilmt zu werden, und ist sich bewusst, dass Informationen und Bilder online veröffentlicht werden. Es gibt keine identifizierenden Informationen, die weder im Video noch im Textartikel enthalten sind.
Citations
Rutkow IM. Demographische und sozioökonomische Aspekte der Hernienreparatur in den Vereinigten Staaten im Jahr 2003. Surg Clin Nord Am. 2003;83(5):1045-1051, V-VI. https://doi.org/10.1016/S0039-6109(03)00132-4
Park AE, Roth JS, Kavic SM. Bauchwandhernie. Curr Probl Surge 2006;43(5):326-375. https://doi.org/10.1067/j.cpsurg.2006.02.004
Poulose BK, Beck WC, Phillips SE, Sharp KW, Nealon WH, Holzman MD. Die wenigen Auserwählten: überproportionaler Ressourcenverbrauch bei der Reparatur ventraler Hernien. Am Surg. 2013;79(8):815-818. http://www.ncbi.nlm.nih.gov/pubmed/23896251. Abgerufen am 20. November 2019.
Parker SG, Reid TH, Boulton R, Wood C, Sanders D, Windsor A. Vorschlag für ein nationales Triage-System zur Behandlung von Bauchhernien. https://doi.org/10.1308/rcsann.2017.0158
Liang MK, Holihan JL, Itani K, et al. Ventralhernienmanagement: Expertenkonsens durch systematische Überprüfung. Ann Surg 2017;265(1):80-89. https://doi.org/10.1097/SLA.0000000000001701
Holihan JL, Alawadi ZM, Harris JW, et al. Ventralhernie: Patientenauswahl, Behandlung und Management. Curr Probl Surge 2016;53(7):307-354. https://doi.org/10.1067/j.cpsurg.2016.06.003
Luijendijk RW, Hop WCJ, Van Den Tol MP, et al. Ein Vergleich der Nahtreparatur mit der Netzreparatur bei Schnitthernie. N Engl J Med. 2000;343(6):392-398. https://doi.org/10.1056/NEJM200008103430603
Kaufmann R, Halm JA, Eker HH, et al. Mesh versus Nahtreparatur von Nabelhernien bei Erwachsenen: eine randomisierte, doppelblinde, kontrollierte, multizentrische Studie. Lancet (London, England). 2018;391(10123):860-869. https://doi.org/10.1016/S0140-6736(18)30298-8
Nguyen MT, Berger RL, Hicks SC, u.a. Vergleich der Ergebnisse des synthetischen Netzes mit der Nahtreparatur der elektiven primären ventralen Herniorrhaphy: eine systematische Überprüfung und Meta-Analyse. JAMA Surg 2014;149(5):415-421. https://doi.org/10.1001/jamasurg.2013.5014
den Hartog D, Dur AH, Tuinebreijer WE, Kreis RW. Offene chirurgische Eingriffe bei Schnitthernien. Cochrane Database Syst Rev. Juli 2008. https://doi.org/10.1002/14651858.CD006438.pub2
Tuinebreijer WE, Amaragiri S, Dur AHM, Kreis RW, Den Hartog D. Offene chirurgische Eingriffe bei Schnitthernien. Cochrane Datenbank Syst Rev. 2007;(2). https://doi.org/10.1002/14651858.CD006438
Kokotovic D, Bisgaard T, Helgstrand F. Langfristiges Rezidiv und Komplikationen im Zusammenhang mit der elektiven Inzisionshernienreparatur. JAMA. 2016;316(15):1575-1582. https://doi.org/10.1001/jama.2016.15217
Majumder A, Winder JS, Wen Y, Pauli EM, Belyansky I, Novitsky YW. Vergleichende Analyse biologischer versus synthetischer Netzergebnisse bei kontaminierten Hernienreparaturen. Surg (Vereinigte Staaten). 2016;160(4):828-838. https://doi.org/10.1016/j.surg.2016.04.041
Kissane NA, Itani KMF. Ein Jahrzehnt ventraler Schnitthernienreparaturen mit biologischer azellulärer dermaler Matrix: Was haben wir gelernt? Plast Reconstr Surg. 2012;130 (5 Suppl 2). https://doi.org/10.1097/prs.0b013e318265a5ec
Köckerling F, Alam NN, Antoniou SA, u.a. Was ist der Beweis für die Verwendung von biologischen oder biosynthetischen Netzen bei der Rekonstruktion der Bauchwand? Hernien. 2018;22(2):249-269. https://doi.org/10.1007/s10029-018-1735-y
Zhang Y, Zhou H, Chai Y, Cao C, Jin K, Hu Z. Laparoskopische versus offene Inzisions- und ventralhernienreparatur: Eine systematische Überprüfung und Meta-Analyse. Welt J Surge 2014;38(9):2233-2240. https://doi.org/10.1007/s00268-014-2578-z
Sauerland S, Walgenbach M, Habermalz B, u.a. Laparoskopische versus offene Operationstechniken zur ventralen oder inzisionellen Hernienreparatur. Cochrane Database Syst Rev . 2011;(3):CD007781. www.cochranelibrary.com https://doi.org/10.1002/14651858.CD007781.pub2
Al Chalabi H, Larkin J, Mehigan B, McCormick P. Eine systematische Überprüfung der laparoskopischen versus offenen abdominalen Inzisionshernienreparatur mit Meta-Analyse randomisierter kontrollierter Studien. Int J Surg 2015;20:65-74. https://doi.org/10.1016/j.ijsu.2015.05.050
Zayan NE, Meara MP, Schwartz JS, Narula VK. Ein direkter Vergleich der robotischen und laparoskopischen Hernienreparatur: Patientenberichtete Ergebnisse und Kostenanalyse. Bruch. 2019. https://doi.org/10.1007/s10029-019-01943-7
Meier J, Huerta S. Die robotische Leistenbruchreparatur ist der laparoskopischen oder offenen Reparatur nicht überlegen. Am J Surg. Oktober 2019. https://doi.org/10.1016/j.amjsurg.2019.11.015
Muysoms FE, Miserez M, Berrevoet F, et al. Klassifikation von primären und inzisionellen Bauchwandhernien. Hernien. 2009;13(4):407-414. https://doi.org/10.1007/s10029-009-0518-x
Ramirez OM. Entstehung und Entwicklung der Komponententrenntechnik: persönliche Erinnerungen. Clin Plast Surge 2006;33(2):241-246, vi. https://doi.org/10.1016/j.cps.2005.12.011
Shell IV DH, de la Torre J, Andrades P, Vasconez LO. Offene Reparatur von ventralen Inzisionshernien. Surg Clin Nord Am. 2008;88(1):61-83. https://doi.org/10.1016/j.suc.2007.10.008
Krpata DM, Blatnik JA, Novitsky YW, Rosen MJ. Trennen von hinteren und offenen vorderen Komponenten: eine vergleichende Analyse. Am J Surg. 2012;203(3):318-322; Diskussion 322. https://doi.org/10.1016/j.amjsurg.2011.10.009
Harth KC, Rosen MJ. Endoskopische versus offene Bauteiltrennung bei komplexer Bauchwandrekonstruktion. Am J Surg. 2010;199(3):342-347.
Novitsky YW, Elliott HL, Orenstein SB, Rosen MJ. Transversus abdominis Muskelfreisetzung: Ein neuartiger Ansatz zur Trennung der hinteren Komponente während der komplexen Rekonstruktion der Bauchwand. Am J Surg. 2012;204(5):709-716. https://doi.org/10.1016/j.amjsurg.2012.02.008
Hodgkinson JD, Leo CA, Maeda Y, et al. Eine Meta-Analyse, die die offene vordere Komponententrennung mit der posterioren Komponententrennung und der Transversus-Abdominis-Freisetzung bei der Reparatur von ventralen Mittellinienhernien vergleicht. Hernien. 2018;22(4):617-626.
Wegdam JA, Thoolen JMM, Nienhuijs SW, de Bouvy N, de Vries Reilingh TS. Systematische Überprüfung der transversalen Abdominusfreisetzung bei der komplexen Rekonstruktion der Bauchwand. Hernien. 2019;23(1):5-15.
Procedure Outline
Linke hintere Rektusscheide Schnitt
Entwicklung des linken hinteren Rektusraums
Einschnitt in die hintere Rektusscheide (Teil 1)
Skin Incision Verlängerung
Weitere Cephaladen-Dissektion
Weitere seitliche Dissektion
Einschnitt in die rechte hintere Rektusscheide (Teil 2)
Entwicklung des rechten hinteren Rektusraums
Fläche messen
Mesh vorbereiten
Transfasziale Nähte
Subkutane Abflussplatzierung
Haut schließen
Transcription
CHAPTER 1
So today we're going to do a ventral incisional hernia repair. The patient's a 76-year-old woman who had a right colectomy for colon cancer and she developed an incisional hernia in that incision. Her other significant history is an abdominal aortic aneurism, which was repaired endovascularly, and, she developed the hernia shortly after her colectomy, and, came to see me, and we just sort of, we waited on it a little bit. I wanted to be sure that her cancer was treated, and had no signs of recurrence. And then also that her abdominal aortic aneurism was, effectively treated and wasn't enlarging. And she actually had follow-up for that yesterday- or Monday, 2 days ago, which looked good. And she's been very anxious to get this thing fixed. It's symptomatic, and- That's the main indication for surgery. She hasn't had any medical complications like bowel obstruction or anything from it, and so the reason we're fixing it is it's bothering her. We're going to plan to do a retrorectus mesh placement for repair of this. There's a lot of different techniques for hernia repair, for sort of medium-size central abdominal hernia- this is probably my default technique, for a bunch of reasons that we'll talk about in the write-up, but essentially what it involves is reopening the old incision, freeing any bowel that might be trapped in the hernia. We then usually resect the hernia sac, which is the peritoneal sac that encompasses all the hernia contents. And then we make our retrorectus flaps, we basically incise the posterior rectus sheath bilaterally and dissect that tissue layer laterally all the way to the linea semilunaris, which is the lateral border of the rectus muscle. And that's the space into which we'll place the mesh. Once we've created that space, we then re-close the posterior layer, and hopefully by freeing it up over that area where it failed to meet before, at the site of the hernia, we are now able to get it together. Then we place our mesh into that space and place a few transfascial sutures- stitches that go through the anterior fascia to sort of hold it in the proper position. And then we close the anterior fascia over the top of the mesh and we typically leave drains in that retrorectus space over the mesh. And those are the- those are the key steps.
CHAPTER 2
So, this is just a big ventral hernia, when she's awake you can see how much this would protrude. She had a prior right colectomy. And so with her flat, it's not obvious, but the defect is about out to here and kind of up to here. You can sort of see it there. Okay, I'll take a marking pen, and then we can do a timeout. Just mark her old scar. I don't know, I have a feeling we'll end up excising a lot of the skin, but we might as well go through the old scar for starters. I think we can do it right there. And then... Yup. Yup. Okay.
CHAPTER 3
Alright, incision. Have you done one of these before? Yeah, we did one in- November. Thank you. What do you want the Bovie setting for? 30, 30 for starters. Yeah. We're going to have to end up taking a lot of this redundant. Yeah. Good. We'll probably get in up here. I think we're going to find this is a really, really thin. See, you're already in here. Just come down on your finger. If it's free, I think it will be. Just be careful here. Okay, good. It's kind of a big hernia for a right colectomy. You wonder with her aneurysm history, right? If it's something intrinsic. It's a going theory. Yeah. Just get through it. Just open the whole thing. Big sac too. Buzz that little guy. Are you in this room for the day? Probably good. So why don't we- let's get rid of the sac for starters. Can we have a Pick-ups?
CHAPTER 4
So just get it started and then it'll peel down bluntly. Yup. Yeah, try and- this skin's probably going to go, but try to avoid it. Yup. Yeah, good. And almost certainly once you get that going, we can just peel it like that. So, do you have a Kocher? Just put that on sac. And another one? And you may need to sort of get it started in a couple spots up here on the skin. But- yeah, most of it will come down bluntly. It's a little tiny bit too much on sac, but- there you go. Yeah, you want to do this. Yeah. And that'll keep you in the right plane, and it looks a little crude, but it automatically keeps you from buttonholing, and if you get- and it kind of maintains- yup- all your subcutaneous tissue. So that's a little sticky, and you can feel it when you go bluntly. So just divide that, and little score here. Get that band. There we go. Just connect to over here where you're in the right spot. Good, you can feel that release. Yeah. Just got a little more thickness here. There we go. Yeah, move your Kocher along to here. That might be a little more than you want- grab just the sac. Yup. Go ahead- score a little bit more. Are we going to send for any… No. Yup. Come back here a little bit? Yup, yup. Score and then peel. Yup, you already may be ready to peel. Yeah, good. And the lap pads are nice for friction. Yeah, the friction just really helps you get into the right plane there. same thing here, just all the way right down. Good. Okay, and then you're right back to the edge of the defect here, and then you can just excise. So yup. I mean- lyse those little omental adhesions. A little swiss-cheesy. You're pretty much- pretty much back to the edge there, so you can just excise it on this side. Yeah, you don't want to get into- the retrorectus space quite yet, or the rectus fascia really yet. This is hernia sac, and we don't need to send it. Make a little bit of a curve there. Do you have the Kocher- other Kocher? No, I think it's more like right there. Okay, it's basically- not specimen. It's basically the left half of the hernia sac, and there's a little bit more here Actually, you didn't quite get it all. The Kochers back, please? Just do the same thing. And this should peel out very quickly, I think. Just give a quick score if it's not coming down. And then it will. Easy to see facial edge there. Do you have a DeBakey? Go ahead and cook me there. That's a normal perforator. Yeah. Yeah, we may end up taking that if we take this skin, but- okay, so that's pretty well defined. Why don't you just take down- take that little adhesion. Okay, and that's falciform, which we're probably going to get rid of, but we don't need to worry about it now, alright, now let's just excise the sac on the other side. If you see anything vascular, make sure you really get it cause we're going to drop this back in and we're gonna forget about it. Okay. Sometimes with these wide sacs, I grab it at the lip. Yeah. So even like- come off for a second- and see I'm- Yeah. Yeah, that gives you the plane. Moist, moist. We're not quite ready for it, but once we're done with all the sac business, we'll use it. There you go. Yup. Now peel. Kind of pull on the skin will be the best way to do it. Yup. Yeah. Good, yup. I mean you can feel it when you're in the right spot. Let me get these on. Same thing here, we're going to have to follow it into this little cavern back here. That was that little fascial band in the middle of the hernia. Yup. There you go. This is still attached. Peel all this out- right along the fascial edge. We'll take everything below that. Yeah, just curve around. Kocher to me please. And come up high, there we go. Now the rest of this should just shuck out. Okay, go ahead and excise. Okay. So, let's make sure this is hemostatic, and then we'll put it all back in. Okay, we'll take that green towel now. And we can just cover the guts. Yup, make sure you get it over- over bowel. And so we want to go at least 5 cm beyond. And then that gets us pretty close to xiphoid, so- you know, the decisions, which we talked about a little bit is- do you curtail it? Or do you just say we're so close, let's cover everything. And with her kind of rectus diastasis, I would probably be inclined to do that. But why don't we- why don't you open it at least up to here, because that's about our 5 cm. See how thin her fascia is, because that's like preperitoneal. Stay in the same line. We don't want to see rectus until we want to see rectus- which is soon. Do you want me to keep going? Yeah, I think- I mean we might as well, at least open the fat there. Okay. Alright, good. Alright. so now we're going to want to raise our flaps, and we're pretty much back to rectus right here. So… Yeah, just open up- open the preperitoneal… Maybe. Maybe- open this preperitoneal fat just a tiny bit further, and then we'll clean that up before we… Just, yeah- fry anything that's… yeah, I think you're... It looks like it might be a little. Yeah, I think you're right, it is. Do you have the Kocher back? And just get this last little bit of sac out of here. Little more sac. Yeah, this is pretty much it, that's- that's her falciform, that's fascia. Why don't you just take down the falc. Do you have a Schnidt please? You can Bovie it off. We'll just- then we'll clamp it, yeah. And then a 2-0 tie. Yes, please. Alright, so… Agan, that's all just preperitoneal, you can Bovie it off just to make it easier when we get to flap raising, but… Just- you don't have to chase it. Just make sure you fry it. Yup. Okay. So, here's our border of rectus. At the level of the hernia, it comes now right to the defect. Up here She's got this really wide linea alba, and we'll want… Yeah, and we'll want the- the linea alba to go with the anterior fascia. So you follow the rectus when you get up here, right when you start to raise your flap, you don't want to end up here, outside the rectus because there's no posterior rectus sheath there. I'll take a couple of Kochers. That's good. Make sure your light is set. Probably, you want to get that one on your side. So, you want to find where the rectus sheath is. And then just make a small incision in the posterior sheath pretty medial, but not so medial that you miss it. I think the sheath is right here, so I think I want to be like here. Yeah, yeah, yeah, right there, yup, yup. And then I'll grab right on top of it for you. Do you have a rat-tooth?
CHAPTER 5
Do you like to pull it out, or you don't care? It doesn't matter, as long as you- you just want to see the backside of the muscle, then you know you're in the right spot. Schnidt, please. Perfect. And then once we get in here, you can sort of come up even more medially. Yeah, you want as much, you know, we're obviously going to have to stretch this to the midline, so we- we don't want to be way back here, it just makes it harder to get there. Yup, it really is rectus all the way up. This is flimsy. It's always flimsy, but… 70-year-old flimsy? I thought you meant the Schnidt was flimsy, I was like… The Schnidt is not flimsy. As we come down here, we'll- we'll get below the arcuate line. Just buzz that. There's nothing really to hurt here, so you can just fry these things. Once we get below the arcuate line, we'll be in this very free- space. Preperitoneal space. And I usually just do the sides and develop down laterally, but I don't connect the ends until I've done both sides because it's a lot easier to- so pull that down- it's a lot easier to meet from the corners when you've got the other side. Yeah, yeah- And we- I don't think we will need to extend our- incision distally, so just... Just take this? Just come down, so pick up your posterior sheath there and take these little adhesions, yup. Take them right off. And this will get us into the preperitoneal space and then eventually the space of Retzius. And that should go all the way down. And we're already at her pubis there, so there you can feel- now you can feel. And hopefully you see from my head cam that this goes a long way. That's easy pickings. Yeah. So now take 2 more Kochers. Put them on here, and then you can develop this laterally, yup, and get any hemostasis you need. So put your Kochers on your end. Another Kocher. Unusually- Bovie please- unusually flimsy. I'm not sure you have it, but- we'll see in a minute. Yup, take a DeBakey- yup, DeBakey's better for that. I'm going to take the rat-tooth back in a sec, I'm sorry. Keep both here. And got another down here as well. So you can drop this right now. So, this is inferior epigastric that's coming down. Okay, we don't- we want to release it up. We want to take the perforator. We don't want to get into the inferior epigastric, so let's get it up. And then we got to find- and hopefully it's just a little side-branch, and we can preserve this. See it? See it, nope- see, it's right there. Yup. Good. Okay. Okay, and then once we're sure it's- yeah, exactly- that's where we're going to go. So put your Kochers back on there. And just keep the epigastric out. She's so thin, I mean that- I've frankly taken that down before, and at least once that I can remember I actually had to ligate it.
But- usually it's- not that easy to get it. But she's really flimsy. Yup, good. Good, and now we'll just take this up. So… And I wonder, I usually do this over a Schnidt like we were doing it, but I think she'll- she'll take, she'll take the finger, yeah. And little perforators there, again I'm just- you want to stay really on your posterior sheath so that we're not bringing down epigastric again. Like, like- you're, you're- you're too high. Okay, you're almost in the- you want to take it at the other end, close to the post- take it post- close to the posterior sheath. It was very rare to see superior epigastric- like that's just a very thin patient. Yeah, good. And your finger will really show you- I can Bovie on yours or you can do it on your own- you know where the most medial extent is. It's pretty unusual to frankly have a thin patient with only one prior operation and no prior hernia repairs. So she's a peach in that respect. Yeah, and so you just move your Kochers up if you think that'll help. So this starts to be where we have to make our decision- are we- are we going for xiphoid or not? Because we're about as high as we would need to be if we're not for just a straight retrorectus, and it looks pretty promising, I have to say, sometimes you have to go higher because you'll never get it to the midline without that, because you don't- you haven't released it over a broad enough area, but she's not super tight. So- I think we probably should just do the other side. Now, what we can do while we're here though is- is develop this totally laterally, like closer to the linea semilunaris, so… Yup. And do you have a- let's try the Richardson. She's so- thin, and so these little perforators- yup- there's vessel to it, and it's generally better to- I like to pick them up and fry- yeah. Otherwise I worry about a midnight cowboy effect. Yeah. Because it might not bleed now, but… Okay. I'm not sure that there's any vessel in there. Yeah, yeah, doesn't look like it. Just look for it now- you can see there's probably a tiny one there. Can you Bovie me, please? Yeah, good. Now we're not going to need a TAR for her. If you were going to, just when you start to see a lot of these perforators laterally, I would- I would dive deep, I would dive deep because- patients who get some numbness, you know, there's nerves that travel with that. If it's a difference between taking a few perforators and being able to keep it retrorectus versus having to go wider, generally I would take the perforators. Okay. So you can see superior epigastric. Rarely see that to be honest, she's just nice and thin, Much easier, more common to sort of get into the inferior epigastric by accident or at least see it. Peanuts sometimes are good for this, but don't really need it in her. She's like rolling up nicely. Yeah, she peels beautifully. And I think we're actually looking here at linea semilunaris again. Very, yeah, very rare to just see it so clearly. Yup. A little bit more right- we want our mash to deploy in the space, so we don't want too much stuff in the way. Alright, that looks- pretty good. Check inferiorly. Make sure… We can maybe come a little bit here, but I don't know that we need it. Yeah, I don't think we do. Here we will, just to get our mesh deployed, need to make sure that we're open widely. So for a lower hernia, this goes all the way to Cooper's ligament, and you can fix to that. I sometimes do that with- fry there, fry there- I'll take a DeBakey. With a tacker, just like you would in a- in a TEP hernia repair. And you can feel right here is pubic symphysis. And so, you can easily get below that. Okay. And we'll do the other side, I think.
Yup, go ahead, get in there, and then just slide up to- perfect. Yup, now up here there's this broad linea alba, right? So you're not going to come to the fascial edge here the way you did here. You want to come to the medial aspect of the rectus. So if you get- yeah, if you stay under, it- it won't let you slide all the way up there, but… And remember, this is what protects our mesh from being in contact with bowel, so it's not for strength really, but we want it in continuity, we want to avoid little holes. Can I have a Kocher to me now? If we don't take it up to the- yeah- if we don't take it up to the xiphoid, these won't necessarily meet, really. We'll have to sew them together to make them meet. Right, because normally they would just- the posterior sheath will stop at the lateral aspect of the linea alba on either side. Now sometimes that's a centimeter, and then they basically are together, but in her, I think- do you have a rat-tooth? We'll- We'll notice a gap. And that sub-xiphoid space I think is frankly the trickiest part of this whole operation. One of my early patients had a recurrence there, and I think I- I then- and I followed him for about 5 years and I know it hasn't really changed. I think there's xiphoid above it and mesh right below it. But- I've now re-operated on a lot of people who were done elsewhere for that- for that gap. They have an epigastric recurrence. Yeah, like here, you know? And I've generally been aggressive about just taking it up to the top. And covering that space and just running mesh all the way if I'm bothering to do a retrorectus repair. But, you know, sometimes you're like, ah, it's a lot more work. Right? Do we really need to take this old lady and get into all that when her hernia was down here? So, we're looking- we're looking pretty good- yeah. So what we would need to do is basically detach- do you know what I mean? The posterior sheath- upward. It's a little bit of a made up plane, and we can probably try to do it now, I think, so, this is- optimize our Kochers. Maybe I should just get a 20 Kocher set. And let's get one up here. One down here. We'll o the same thing on this side. Do you need more Kochers? Yeah- no, just 4, just 4. One more. My whole life has predicated on 4 Kochers- oh, that's good. And so this part I don't like- I just, you know, you're either like all the way to the- yeah, yeah, yeah. I was probably moaning about it. George will sometimes cut a slit here and pass arms up either way, and, you know? To find the space? Well no, no- just up for the mesh- he'll cut a slit in the center of the mesh and he basically says- I'm leaving native linea alba here. I want a little overlap to allow mesh incorporation. I don't- I tried it once, didn't, didn't have a bad outcome, just didn't like it- went back to going up to the xiphoid all the time. So now you want to try and get these off the sort of posterior aspect of the linea alba. So connect them. Yup. Yup, that's it. Good. Like joining 2 things that don't necessarily want to be joined. Yeah. And we're actually- yeah, we're through it, so- I think- I think we're just going to- We're gonna xiph it. She's so thin, right, we're- we're bringing- this is through fascia. Go ahead. Alright- yup, yup, yup. So just open it. Just come through everything up to there. Up to the edge of the skin? Yup. Until we're back in sort of native unseparated fascia. And so I think for her, we can either take it all the way or we can- we can do the wings, if you know what I mean. Just bring it across. It's about… Like 2 finger- a little wider than 2 fingerbreadths? Yeah, and that's about 3 or 4 cm, so… I think we just cover it, don't you? Just come up to the- I mean, we're already here, we gave her a big incision. Yup. What's another couple centimeters? Yup, yup. I'm not worried about it, so- you don't have to come- so, it's going to basically be- do you have a ruler? So… I think it'll make about 4 cm, that's about xiphoid.
Once we do this, we want to leave happy. This is my biggest dilemma after however- whatever, 5 years of doing these repairs is always this upper part. I actually love, love a- big hernia that comes high for this because it removes all difficult decision making, and it's very easy actually to get low from an incision that you don't carry low because once you get into that space of Retzius, it goes forever. But up here it's not as easy. I mean, once you got into that preperitoneal space it. just opened right up. And I feel like… Yeah, and I feel like I'm- I don't know, I feel like a crazy person when I ask people about this because- yup- I feel like- I'm not- nobody quite sweats it, maybe quite as much, and- or just- quicker to go all the way or just is more satisfied with just coming straight across. Obviously George has his answer to that situation, and then as far as I know it works okay, but- yup.
Okay. Back to the other side? Yup. Same thing here. Yup. Bovie, got it. And then when you connect under the xiphoid- and then you know- okay, we're up under the costal margin. Do you have another Kocher? So we're back to the laparoscopic fascial suture- the only equipment I've ever asked to buy, and they're so cheap. We ruined them. Yup, keep going. Here's xiphoid. Yup, keep going. Just kind of curve medially, here. We want to get it right up- yeah, xiphoid's right here. Yup. Same thing here. Just keep coming up. Yup- not anterior. You don't want to get into the anterior fascia. Just… I'm on this side. That's fascia, yeah. And just this side, yeah. Right there. Okay. Alright, there's xiphs- a little bit here. Just come- yup. Tiny bit further. You can feel xiphoid right there. Right- feel from underneath, yup. Just about there. Yup, keep coming. Just cephalad. Cephalad. Wherever this goes is where our mesh goes, so- I think we're there. Right, that'll be the superior extent of our mesh. Go a centimeter higher. I could tell from you're gazing into space and wiggling, that's what you meant. Yes. Okay. Good. Now we're right up over it. I feel like that last piece just broke the... Yup, yup. Okay, alright, so that's good, so, we just want to make sure again, we went a little higher. So develop it laterally at that level.
Do you have the Richardson back again? And I'll do the same thing on your side. You know, I- I should have known we were going to opt for the- the Full-go. And just done it from the start, but- there we go. Good. Yup, perforator. Let me- Let me take an abdominal wall here. DeBakeys again, yup. And again, you really want to be low here on the posterior layer. Yeah, exactly, just score, nudge, that's going to be worthy of pre-buzzing. Do you have a Schnidt? Yeah, yeah, maybe just keep as you were there. A little perforator there, just pick it up. And then- yeah, we don't want to take it just to take care of it, you want to mobilize that space now. Yeah, I think that's pretty good. This is right up to costal margin. So, often your mesh will end up a little bit diamond-shaped here because- well, I mean you may lay it under the rib, but you're- you don't want to put transfascial sutures through them, except in- there are extreme circumstances where there's like no abdominal wall. I think that will reach. Yeah,I think it will. Okay. And then here, I think we were good. Okay, alright, so let's- So it's going to be upper part over here again? Yup. Well, we only went- we only went up here. We haven't taken this side down yet, so… Go ahead and…
Bovie there. Do you have that fourth Kocker? Yeah, it's amazing, that- we rarely see the superior epigastrics up here, but I could- you could easily- you saw them on the other side, you could easily imagine getting them. Commenting. Just come right through there, we're already in the retrorectus space. You'll see how easy connecting down here is compared to connecting on the other side, on the superior edge. Grab that a little bit proximally. And then don't let go, just tent it up. Yeah, as you go- you got to be careful bluntly on these, and they're- you know, you may have the whole epigastric there, so you just got to be a little more precise. Try to find- it's usually a little side branch that's perforating off it. That's definitely safe. Yeah. That's what's tethering, go ahead and lift up that perforator. Alright, let us roll it up. Okay. And then a little further, and then we'll do that same arrangement where we get clamps on the anterior and posterior on either side of midline. And- and you'll see here, there's no linea alba posteriorly. Right below the arcuate line, there's nothing. So, you can just go ahead and connect here and just- hang on. Just get that towel over bowel, she's so thin. That's one of the things I was impressed with when this guy was talking about not- going intraperitoneal is like, you're working right over in this thin layer with all these often many adhesions. Okay, so compare connecting them- the 2 halves here, inferiorly, to ant- to superiorly, here it's a piece of cake, and it goes forever, and I generally will lay the mesh to the pubis all the time. Your transfascial suture that you tack with won't go that low because obviously you can only bring to the pubis. This one, we don't need to like tack to Cooper's. But if you have like a Pfannenstiel hernia, or something like that, that's really low, it's great fixation, I mean it's- it's beautiful. So, that's way easier. So now I think we can close our posterior sheath. Maybe let's doll this side up a little bit- I didn't quite take it- maximize it all the way to the linea semilunaris here. Do you have that abdominal wall?
The Bovie please? See, there's a little perforator that I think we can preserve. These- tent, but not enough to tear. Exactly. And I think it was- I think we should save those. I don't think we're going to need the release to get this to the midline. I think- I think she'll come- if we do our homework up higher here. That looks good there, right? Yeah, yeah, we're- we're getting there. So- and again, without like real hernia up here, we don't necessarily- the reason to release is to get this part to come together a little better. I think we're going to be good. Should we start closing the posterior sheath?
CHAPTER 6
Alright, so- let's get these, sort of 2 on either side, up high, close it from the top because that's the least pleasant part of the whole thing. Yup. And we're going to be ready for number one PDS here in a second. You need to really dive way up here under the xiphoid. And I'll take an abdominal wall. and a Bonney's to Kat. Way up here? Way up there. It's like right here. Your stitch should be bowed. Here's the xiphoid right there. Yep. It should be right around it. Coming across this way. Yup. For really big upper hernias, where there's no abdominal wall, you sometimes… Do you take this in two, come through here, and then… Yeah, just like you're- if you're closing fascia, yup. But you want it- but you can get into an extra peritoneal plane up under the diaphragm here that we definitely don't need to do for her. So I just bring it up to xiphoid, and then the very top of it lies under anterior fascia, and just on top of xiphoid. Just sort of the opposite of what you're going to do if you need a lot of coverage up here. To me this is a poorly explained, murky area where if you- if you just go ask someone what they do in these different scenarios, you get an answer that is hard to translate to reality. It's not that it's not true, it's just- everything else about a how to is very clear. This is an easy scenario, but actually there's an easier scenario where we dodge to the more difficult scenario of how do you stop a retrorectus repair short. And what do we have to do to do it? Make a 4 cm incision. You want a wide malleable under, or are you happy with just a… I think I'm okay. Yup, okay, Just pick up the fascial edge there. Yup, good, that's it. And relatively- small bites close together. So you really want to- spread out the tension over this whole thing. It doesn't matter as much up here,especially up here, like really close together because you're inserted on the costal margin up here, so there's a lot less give, right? If you're not TARing? Yup. Yup. Good. Make sure you're all the way to the edge, yup. Like- yes, yup. Not, not just the fat, get- pick up the- yup, yup, yup, yup. Yeah, I mean, this is the fascial edge. So we're just going to run this posterior layer with a number 1 PDS. And we're going to get our sort of final hemostasis, cut our mesh to size, put our mesh in with transfascial sutures, lay in drains, and then we're going to run the anterior layer the same way. Okay. Let's see how we're doing. And- you know, there's- don't- hang on. Just hang on, hang on. It's not really a strength layer here, but we mostly want it to keep our polypropylene off bowel. I just want to make sure we're… Lined up? Yup, okay, and- so not uncommon at this point, you're like, you know, we could take a little bit more. Right? Yeah, I think it would release a little tension. Let's just snap this for a second. And she feels pretty loose, but it's just so flimsy that I think that's part of the reason- and Bovie- part of the reason. Yeah, it's just starting to tear- can I have a DeBakey? Just take that little perforator. And then just, yeah- tent it up. Good. Yup, good, good eye. Here, let's keep releasing right here. Okay. Okay. Alright- Yeah, a couple more bites anyway. Yeah. And- again… One of the few operations where I actually like another set of even totally unskilled hands can be helpful. Just to sort of pull stuff together, but… I might take these Kochers off if we're not going to use them to pull. Maybe I will use them to pull. Sorry, a Kocher. Might be better than retracting actually. So that distance you're okay with between bites? Yup, I think the distance is- good. There's one hole on each side I think we have to incorporate, right? One over here, just by the edge. Yeah. Yeah. And this is feeling tighter than it looked to be honest. So by going wider, or you put it under more tension. Okay? Why don't we come out of the bottom. And snap this up. Okay, another number 1 PDS. Generally a lot of give down here where it's really low, so… Where it's really free. Yup. Oh, I get to so sew, psyched. Give myself the easy part. Can I have those Kochers? Okay, I might- this is so friable, I might start pulling like the towel out while it's big because you can sometimes have this experience where there's so much friction on the towel that… I don't- I don't, I- yeah, I don't think so. I don't… Don't use your hand. Yup. So you do sometimes get into this dilemma where the posterior sheath is hard to get together, but you know you have enough release on the anterior, and you know, I- I don't- I would never really do a transversus release for the purpose of getting the posterior sheath together. You know, it can be a little bit of a dilemma just because- yup- I don't love having a- you know, a hole in the posterior sheath. Sometimes you can leave a gap. I've used a coated mesh so that it's okay to face bowel, but I still almost worry about herniating like- a parietal hernia, like between the layers, if you know what I mean. Like if you get… Between the mesh and the retrorectus? Yes, yeah. I don't think that's impossible. Never seen it, but Yeah, we're just- I mean, we're going to get, I think, needle holes here and then we'll just have to see what we think, you know what I mean? You can go with a lap, just don't want that towel buried in there. Sometimes trying to pull it out is really painful. It's a very circular hernia defect, and so now we're getting to that… Wider part? Yeah. I think we got to do a little bit more work to do whatever we can here to get that together, we didn't really go back to my side at all, so… Do you have a Bovie again? we have space for sure here. I think that's all we get here. Go back to this side. I just wanted to make sure I was seeing epigastric because- okay, It's way up here. Yeah, come behind that. Buzz me there. Okay, and come under just that outer part. I think that's arcuate line, that's not a perforator- yup. This is to midline here. Yeah, I mean it all feels like it pulls there, but empirically when we're selling it, it's- it seems a little bit- tight, or maybe it's- it doesn't feel that tight, it's just so flimsy that any tension has given us needle holes. Why don't we come up- a few bites from below, we'll just come above and below, and see what we can do. Okay, and this is really where we're hurting, you know, but right where this came all the way back, and you know, anterior fascia is not an issue, so- it's going to be a posterior fascia sort of question, I think. Yup, it's going to come from the top again. This is sort of what's hurting us. The immediate solution to this as a TAR, but again, I- generally- sorry- I generally try to avoid it if the issue is just posterior fascia. I think the anterior fascia is going to be fine. So- yeah, so one option, you know, which honestly we should have thought of on the way in is you can use the sac. As a bridge? As a bridge. So here there's that sort of linear tear there, so I can come here, and we could just repair that afterwards. Yup. Yeah, yeah, don't- don't worry about it. The other option is to just use a coated mesh. They're a little more expensive, you know, they're only made to incorporate quickly on one side, and one of the advantages of this as you can use a polypro that will incorporate on both sides, but I generally prefer it to more surgery. You know what I mean? Yeah, so really unfold it so that you're using all the length that you have, and you get this little bonus as you get off the costal margin, and it's able to stretch a little bit more. Let's see, where are we at now? Really right at the defect. Just hold up on that one. Right through here really is arcuate line that hurts us. One option would be a unilateral TAR. I don't do a lot of that, but- you can sort of imagine that releasing through here would probably give it to us. Do you want this just to be a single, or do you want this... Figure of eight it. Figure of eight it. And then I'll sort of pull it as you come down to tie. And we'll see what we get. If it meets here it aught to meet, you know what I mean? Not just yet, don't sew the lap in, I have done that. I mean, not permanently. Come to realize it later. Okay. Maybe we'll do a little Chasen style successive bisection here. Generally, if you feel like you can distribute things a little more evenly, you know, with, with, with- no, I don't think so. We'd have to put them close enough together, but- okay. Yeah. Got it. Yup. Okay. Yeah, let's- just cut that out. A little bit of a healthier bite. Yeah, you don't have to cross the Kochers on this one, just come right next to it. This is another common dilemma, it's that the posterior sheath is- it's often people have had prior repairs, and so when your explanting mesh this gets weak. They may have had ostomies, and those are weak points. They're not always bad, but sometimes they're thin. Just sort of march up towards your Kocher? Yeah. Pseudo-running. Do you have another one of these PDS's? Yes, I have one more on the field and several more in the room. I almost feel like we could be using like 3-0 Vicryl for this, it's so flimsy, but… It's one more hand. Good. Good. Alright. Thank you. Yup. Singles. What's that? Singles. This is a little better. Well we're closing, but it's a hernia repair, so like, most of the case is closing, so yeah. We have to do this, then tack our mesh. We probably have an hour and a half I'm just going to take it in two, so I make sure I don't get anything underneath it. Yup. That's a little more than I want to take, but it's just so flimsy. Yeah, it's- go ahead and pick up the edge. No- it could almost come like across here. You know what I mean? Like... Yeah, like diagonally, whatever is the least tension. Yeah, like to here. Not to the apex out there- to here. Yeah, that's easy to pop a Vicryl in. Let me get it down for you. You got to see what you're- Yeah, I can't see under it, but I could see under it when you stuck it in. Okay. Yeah, you're good. No, you got to see that, you got the needle. Tie it up. Take the needle off please. Got it. Okay, good. Let's see how we're doing now. Okay. We're getting there. Same strategy here. Yeah, Kocher please. Yeah, be careful with the wide bite. A wide bite is more tension. There's the benefit of the large bite not pulling through versus... Yeah, yeah, yeah. Good. Alright. Try and get all the way under. Do you want some more PDS's open, or do you… Ah, yeah, yup, yup. We were alluding to it before, but the other option for trying to get advancement is to do a transversus abdominis release. That's what you need to do if you can't get the anterior fascia together without an appropriate amount of tension, that's your strength layer. But I would be really, reluctant to do it just to get this postier layer together because this posterior layer doesn't really provide any strength. It's essentially a barrier between our mesh and the viscera. So I hate to do- flaps for something that's not like sort of, may not be critical to the long-term success. I think we're going to get this. A Kocher. One more in the middle, and then maybe try to run it? Yeah, sure. I can sort of already tell you, even though like there's some needle holes, that's certainly acceptable in terms of what type of gap you can live with in your posterior layer. We can come back with a Vicryl, and sort of doll them up. Well why don't you just take, take- take a Vic, and just kind of close that transversely. Do you have that 2-0 Vicryl? Bonney still okay? Bonney's good, yeah. Do you want to pull your suture halfway through after each bite so you're not sawing- that's always true. So know, some people will fix omentum to little holes. As a barrier? That's- I'm not sure you have anything there. Yup. It's split there… Sort of a careful tie. Yeah, I think it has enough give in that direction. Yup, that looks good. Take that needle off. Here's a sharp down. And this has a lot to do with her flimsiness because this tension really is not excessive. Okay. We're going to get it. Could I have the Kochers back again please? Do you have good stories with... Probably. He's got stories, but he doesn't tell stories. Oh, he doesn't? He claimed they were classified. You'll never know if they exist. And see how it's just right through here where the hernia was. It happens to be used kind of right at the level of the arcuate line, so- I think that's it's just tethered kind of here, you know, if we TARed it, that would come free immediately, but… I did a number of TARs before I ever did just a sort of straight retrorectus because I was just- we're basically doing a lot of external oblique releases for big hernias, and I think you can actually go bigger with a TAR. Re-entered the posterior space just because we needed to do it for big hernias. And then after a while you start to increase some of the benefits.
CHAPTER 7
Alright, yeah, this should- this should all come pretty easily, so let's do a little hemostasis patrol and hole patrol. If we want to drop a Vicryl- do you have an abdominal wall, and some irrigation, and a sucker? Bulb irrigation, or? Bulb. Yeah, just bulb. Alright, and this is where we want to zap anything that might ooze. But- you know there are- in theory, and I think in reality, a number of benefits to being in the space with the vascularized tissue on either side of your- your graft- your mesh prosthetic. Checking for hemostasis. Pretty much a freebie. Anything that's oozing you can take at this point, but… Pick-ups? Bonney? DeBakey. DeBakes, yeah. There's a big stool ball right under there. I thought it was her aneurysm. There's like a huge rock-hard stool ball. That's what sort of- it's right here. I thought- I thought initially it was her aneurysm because she's thin, but… Not really. I've never- never had to like take anybody back for bleeding in this space. I also think it's a little more prone to a tamponade than the subcutaneous space in an anterior dissection because you just got some tension on the tissue on either side. She is on aspirin, but no other anticoagulation. Alright. I think we're good. Happy? It's pretty dry, I don't think there are any big gaps in… Okay. We can open that 30 by 30 polypropylene mesh.
CHAPTER 8
Do you have a ruler? I'm going to guess we're going to have like a 15 cm… It might- No, she is pretty small. So, our widest I think is going to be- probably- Yeah, as this comes forward, I think probably more like 13. Yeah. Yup. 30 by 30. Yes. That's pubis. Yeah, so why don't we go- 27 I think. Okay, so, do you have a marker?
So this is one other advantage of this is- yeah, is there- these are inexpensive, not that we care about that in American, but- or at least in the United States. 13? 13, yup. So you can… That's fine. Just line up- right on that. Oh, I see. We said 27? Yeah, just- just, just cut it, and then we'll trim it. Oh, okay. We're going to have to round the corners as well up here on the costal margin, so there's a little bit of arts and crafts. Straight Mayos? Okay. And then take like 3 cm off the end. There you go. And then up here for starters, just in terms of eyeballing it, you can take off… Can I have that marking pen back? Take off… Yeah, go ahead and draw it. Take off- these corners don't have to be shrunk too much, but you can- you can at least round them a little bit. Here. Cut one. Here, cut one. I'll show you how obsessive I am. Fold it over? Yup. Pretty good- Dr. Albutt. I pass arts and crafts? Yeah. Alright. And then up here we're going to have to take quite a bit more off because again, like, her costal margin kind of comes down here, and you can… Here- draw it out on here? Yeah, you can sort of eyeball it from here and try something like that. That's too wide. Okay, try that. Okay. So, lets... Try it? Yeah. It's generally easier to slide it in this direction, so you can shove it down here first. And then we can sort of- adjust. I like it. Right to costal margin. Yeah, under costal margin in fact. we can't bid our transfascial stitches there, but it rests under there. And here. Reaches to pubis. There it's out… Yeah- and it fits, like we didn't make it too… So we'll have to just check it. Do you have a couple Kochers? Actually, we'll take all the Kochers up. Let's pull this forward and make sure we're happy. And if we are, we'll take it out to put it in our transfascials, but… Yeah, yeah, this- this will come with great ease. That's where that like weird part of the sac was right up here. Yeah. Okay. I want to make sure this still fits, you know, that the space doesn't look smaller than it- and it, yeah- and it- looks good. So we want to put, we want to put our transfascial sutures in, in such a way that they unload a little bit of tension. And when this comes together, it's like even right? The two mistakes you could make is to load everything on the mesh, so all your tension's on like 8 little stab sutures, and the anterior fascia's really lax, I mean maybe that's not terrible. The other mistake you can make is to end up with all the tension on the anterior fascia, and the mesh is all crumpled up and loose in this space. Great, thank you. And you can see where we have good underlay, not above the xiphoid, but Her unviolated fascia ends here, and our mesh goes up to here, so, you know, even though the hernia probably ended down here, we have tons of overlap there. So, I think for this we're going to- I- I used to avoid the top and bottom, but we'll want one on either end, and I think she's going to kind of earn a 3 on either side, so we'll end up using 8 of the Ethibonds. And… Do you mark? The only one you really have to be careful with are the costal margin ones. And I think we can just go like, you know, a centimeter in. Okay, so we'll take the Ethibonds. Probably a DeBake, yeah. So just at the top? Yeah, midline, at the top. Snapping all these? Don't- if you make it that wide, think about what's going to happen when you tie it. Yeah, these are actually all just- it's a pop off. They're all pops? Pop- yeah. Oh, yeah, I see what you're thinking. I just worry about frankly losing it, but yeah, you can tie it to there, right? That's why you were taking a wide bite. Yup. A couple more to lock it down, but you don't have to a bunch the mesh. I just worry if we put in all 8, and we're passing all the spaghetti around, and it's untied there, we're going to lose them, so… Here? Yeah, probably like there, this one- the very edge is under costal margin, so maybe a centimeter in from the edge. And then one thing I didn't mention on the gear is glue for the stab wounds for- perfect, I thought it was on the card, but I didn't specifically say it. So, yeah, ehh, maybe we're going to end up using… Should we do this one first? Yeah, I was just gonna say, we were- we were saying 8, but I think we'll probably want more than one in the middle, here, here, and in a corner, and down, so we're actually gonna use 10 Ethibonds, that may mean another pack for you. I already have 2 packs, don't worry. I had two probably earlier, so I figured I'd just have them. Perfect. Is this the mesh you usually use for this site? For this, yup, definitely the first choice. Parietex, so that's polyester, which for a bunch of reasons maybe isn't an ideal- as ideally- material. So you want me to do one here? A corner, bottom- Yeah, But- it's the only coated mesh we have, so if we couldn't have gotten this posterior… Yeah, if we couldn't have gotten this posterior layer closed, over a large area, and we need some kind of mesh that's safe to face bowel, and that's the one we carry. Remember this will be behind pubis, so you can be a little- a little higher, yeah. It's so sad that your fancy needle broke. All of them. Reverdin? Yeah, yeah, they ordered bunch. So they would be like- Oh, we'll just- there- I don't know, they're not expensive, so- like we'll have a few kits in case there's more than one in a day, and yeah. And actually the- the case where I discovered it was like an after-hours case in a cardiac room. I was closing a sort of guy with multiple ventral hernias for- for- Dr. Cusack after he'd done some huge peritoneal debulking thing. And I- yeah, suffice it to say. No Reverdins? Well, other than- no, trying to just find the laparoscopic- yeah, suture holder was any, any, any substitute was- was hard. So the thing I like about the Reverdins compared to this thing that we're about to use is they're sharp. And so you don't have to push hard and you don't have that like fear that you're going to pop through and go stabbing into something. Is the Reverdin thing a cardiac instrument used… No, no, no, no, no, no, It's- we were in a place where no one knew what like a, a laparoscopic- any of the substitute things would be. And so- we just have to be extra careful with this thing. What I realized is, you know, for laparoscopy, the abdomen's always insufflated, so that little pop doesn't really matter that much. Okay, so let's sort of slide it in. Can I just mark on here what sort of level they're at? You'll- we'll want to see it when we're pulling in the abdominal wall, yup. That's the time to line it up, so… Okay, so we'll just go right at the very top here. Apex for the first one. So- stab wound. I always make these things bigger than they should be. They can be really small. 15 or 11? 11 would be ideal. Okay, so we're right at the top.
So these are transfascial sutures. This is what will anchor the mesh. I see you. Okay, yup, alright. And we'll take the- do you have the BeBakes? Okay. And when you're doing these, you just want to make sure that you're taking a bite of the- so, lift up again. And do you have the wide malleable? Yup. I'm just really paranoid about stabbing something we don't want to stab. Okay. Take the other arm. That DeBake back. Do you have some snaps? And now a snap. Okay, pointy thing coming back. Alright, so now pull up on that. Now we want to see where these lay out. Do you do top and bottom, and then the sides? Usually yeah, but, you know these, we sort of eyeball the angle, so, you just want to make sure that they're not under the costal margin. No, that would be good. Yeah, and so- pull up on this. And then… Yup. We're going to want to be right over pubis with this. Make sure you feel the bladder, yup, It's way down. Got it, okay. Go ahead and snap that. I like the Ethibonds because they slide down to these little holes easily, and people don't feel them under the skin. They're soft. Okay, so go ahead, let's pull that out. That would become the Albutt maneuver, and not as good as the one you're working on right now. Yup, I think it'll be good. That- that tenting should go away. Okay, so now we just lay in the sides, do yu have a- we can do your side first. I just want to organize this. Yeah, it- is not that important because we're going to- you end up moving it around a lot, but what you do want to see is kind of where this is going to be in the midline, and in general, you always want to go a little wider on your skin incision, and a little more medial on the mesh than you think, like, you were good with these bites that are in a little bit because I think it's much more common to find that the mesh got lax, than- than to find that you left it under too much tension. And now you do this one before you do this one? It doesn't matter, but this one's easy, so why not? Here. And come out very lateral in the space. And that looks like it'll be good. Thank you. Okay, we got this one here again. Do you want some distance between those two? No- yeah, if anything, down though. Go ahead and snap that up. And then why don't we do my side, opposite, to make sure we like that width, and then we can fill in the blanks. I think we're going to be- right there. Yup, good. So, obviously a lot of the skin could be gone. Do you have an 11 blade? So I get an 11 blade, please? The other nice thing is when your patients ask you where the mesh is, you can point to the little holes and say… Okay, go ahead and snap those right there? So that whole urgh- pop with a- pointy or Reverdin needles- not an issue. Here's that pointy thing down there. Okay, so let's see if- pull up your side and that end. Yeah, we're going to be good. Right? Once the fascia comes together over that, I think- let's make sure. Make sure that's not too tight. Yup, okay, good. Knife? I want to come and obviously don't want to get in intercostal, but otherwise we're going- should be pretty close to the costal margin. And snap us please. Yeah, good. Okay, there's pointy thing to you. Her tissues are friable. DeBakes in a sec. There you go. Okay, keep going. Throw a snap on that. Okay. And I'll do mine. It is a little tedious to switch sides, but I think it's just easier to make sure you're getting the tension right as you go. Okay, so I'm going to go behind the epigastrics. Do you have 11 blade please? Even if you find yourself like off, you almost never need to make a new skin incision. You can traverse, and I'm going to keep my hand, not where I want to stick, but just around the epigastrics. Thank you. Okay. And here's the groin- the groin incision comes all the way up that way, so I'm going to come a little medial to it. Yup. The 11 please? Yeah, when you TAR this, you'll find you're all the way over the iliacs. Obviously here we're superficial. And- DeBakeys to me- got them. Looking okay down here? Yeah- before you pop through, let me get your suture ready. Do you want to do this righty? I think it's going to actually be easier. Get an eye on the epigastrics. They're actually up, I have my finger on them. That's the last one...? This should be it, yeah. One sec, let me find the other end. I just want to do that before the pointing thing is waving around in the abdomen. Not really in the abdomen,I guess, but- the body. Abdominal wall. So… Here's the Kocher. Alright, without putting ourselves in a test of strength against one another, just pull them up sort of snugly. Good. I think it looks pretty good. Yup, good. Start tying. So one of the perils of this is you can, you can pull it to one side or the other while tying it, because you can be like, ahhh, I'm so huge, I'm gonna tie really hard. And you can actually like- like a Kleenex pulls out- pulls out- pulls out of a box, the mesh can like pucker in, and it- it makes about a- maybe a centimeter or so difference, and it is then asymmetrical, so- these are fundamentally like tackers- you know what I mean? This is gonna incorporate… And I think a lot of people use probably absorbable sutures for this actually. So, you- yeah, yeah- yeah, you- make them short. And I also think for that same reason, I alternate tying, just like we alternated sides putting in, so you tie, I tie. And I kind of keep you from going bananas- yup, just kind of hold it into position here. I do have a tendency to go bananas. I think we are going to have to do a little plastic surgery on her skin here. Do mind retracting this floppiness over here? This? Yeah. After this, we'll put it in a couple of drains, and then we'll be like closing any other abdomen- run fascia. The only thing that will make it take a little longer is I think we got to deal with all of this skin. But don't worry, we're gifted cosmetic surgeons. It won't take long. How many drains do you want? Two- 19 round Blakes. Well, that was- I learned something- in terms of not giving up on the posterior sheath when it's really friable. That's going to be fine, and is way better than like bridging that central defect. I really worry about- I've never seen it, but I do really worry about- a parietal hernia from that- an intraparietal hernia, and… Okay, great. So, next- Number 1 PDS- or actually drains, sorry. I'll take an 11 blade.
CHAPTER 9
That's a little close. That's okay. That's good. And a Schnidt to Kat, and a drain to me. This one coming in first okay? Yup, yup. That wasn't down, was it? No, nope, not at all. Okay. You might as well do that- drain to me again, and then- do you have a some 0 silks for drain stitches, or do you have a 2-0 nylon, that's fine. Yup, yeah. What's that? Yeah, I would definitely avoid that- drain, another drain? You already made your other...? Yeah. Okay. And drain stitches to each of us. So these just sit in the retrorectus space. They definitely seem- wow. I believe there's data on this. You can look it up when you write it out- when they- when you write this up, but they- they slow down and come out faster than subcutaneous. And an Adson, please. Do you want both sides...? I pretty much always do two. But maybe I'm not as good at sewing as you are. This isn't going anywhere. Okay. I was thinking we'd Monocryl her, but that seems pretty tedious right now. Should we staple? I think it's pretty reasonable to staple this. Alright, we are also going to have like uneven skin edges. Well, once we take this off, we'll see. We- may want to consider draining the subcutaneous space here. Do you know what I mean? This potential space? Just cause there's a big dead space… We're going to have to see what we take out on the skin? Yup. We might need another drain before it's all said and done. But, for now, number 1 PDS's, and Bonneys, and a Richardson.
CHAPTER 10
Alright, yup, just a regular, running closure now. This is not the longest stitch, so… I don't like the like long, big- really long looped. No, I hate looped. They're so unruly- and we said staple...? I think so, yeah. Yeah, we still will need a couple 3-0 Vicryls to line this all up, but… I think you do, yeah. And even that, I mean I can get a whole Rich inbetween those bites. Grab fascia, you're grabbing a lot of rectus- grab fascia. No, no, that's it. But you're- you're like everting the rectus, yeah- that's it. I don't even mind if you pick up a little in your bite, but you don't want to grab the rectus and tent that out. What do you want me to do with this? Just- well no, essentially ignore it, you can incorporate it, but just make sure you're getting fascia. It's just a little- yeah. I like it, we're perfect on the mesh tension. No. Maybe it's Kat's. Are we still thinking about that other drain, or? Yeah, we'll know once we excise the skin, it's just I don't know how much space there's going to be there where the hernia was. Did you come out of the bottom? What is this? Subcutaneous fat? Okay. I think we did it. Let me get the needles off here. Thank you. Thank you. Now we have to make this look less crazy.
CHAPTER 11
Okay, so take out- do you have a skin marker please? And a couple Kochers. Go to midline, and then leave yourself a little bit of wiggle room is how I would say. The last thing I want to do is have- not enough skin. Okay. Go for it. Curved Mayos. I find this easier than cutting. Yeah. Than with a scalpel… And Bovie that. Ooh boy. That's a lot of skin. Can I have those curved Mayos back, and a rat-tooth, and a marking pen. She had a tissue expander in there for sure. Something like that? Yeah, do that, and then we'll figure it out. Okay, so, if we were to like- not so chicken, right? We would have cut more off. Do you think this space should be drained? Do you want that side right now? It's much smaller now. It is. I'm sort of inclined to do it though, I have to say. I think it's reasonable, we do… Yeah, we will open it. And then just take that dog ear off too. Can I steal that? Yeah. I mean even if we get it out early, whatever the output, if we made a flap this size, we would drain it. Don't you think? So I have- go ahead. So this looks like it will come together okay down here. Yup. Just some 3-0- Oh, I'm sorry, we'll take that drain, and then… A little blade to just make it? Yup. Yup, that's fine, this looks a little… What did you say? It's a little scalloped there, but… Okay, good. There's a couple little skin pieces.
CHAPTER 12
So try to bring this not in- directly into the seroma cavity. Just make your incision here, and then- so there's a little tiny subcutaneous tunnel. Yup, that's good. And then a Schnidt to Kat, and a drain to me. And we'll need another 2-0 nylon for that. Yeah, yeah, it is smaller, you can probably- yeah. Can I get a drain stitch? And a 3-0 Vicryl to me please. And an Adson.
Make sure this is all lined up. Keep track of that stuff. I don't think she's going to miss her belly button too much. Well I- this is- it's not like she had one, really. These tend to flatten out on their own? Yeah, yeah. No. Yeah, just a bunch of unclips and Tegies, we'll use them for the midline and the drain. Should we start from the bottom, and then meet? Yeah, you- what you don't want to do though is get all of the redundancy, you know like, you can still augment it, so you still have to stretch it out. So basically- well no, that's- that's going to just move it down, right? We got a little more skin on her left, so you need to sort of relax the right, tent the left a little bit until they… Now the- yeah, the opposite. There you go. Now you'll- down here, I think you've got more redundancy- yup, there you go. I want to just try to get that a little more everted. Okay.
CHAPTER 13
That was a pretty typical retrorectus repair, including a couple of pretty typical dilemmas. So it's maybe good to get it on film. If you remember the steps we talked about pre-op, that's essentially what we did, but we had a couple of different points where we sort of had to pause and make decisions. One is where you will terminate your dissection superiorly. For hernias that come very near to the xiphoid and the costal margin, it's sort of a no-brainer. You're obviously going to have to underlay mesh under the xiphoid or costal margin. For hernias that are a little more central in the abdomen, for which you might be able to get adequate mesh overlap without necessarily coming up to the xiphoid, then you have to make a little bit of a decision. Do you want to truncate the mesh lower in the abdomen, do a little bit less dissection, or do you want to make sure that you've kind of covered the entire midline? And that actually comes up a lot. And I actually hate making that decision because you never want to do more surgery than you have to to fix the problem. On the other hand, you want to feel secure that when you're done, you've done everything you can to reduce the risk of recurrence. So, in this case, after a little bit of hemming and hawing, you'll see we decided to take the dissection up to the xiphoid. And, to be honest, I usually err on that side. We had to extend the incision about 4 cm beyond what we otherwise would have done. So in the grand scheme of that operation, that doesn't add a lot of dissection, and I think just gives probably more security that we'll lower the risk of recurrence. Recurrences in that sub-xiphoid space are pretty common. I had one of my own very early on, and I've now fixed a number of recurrences there for people who do retrorectus repairs and sort of stop the dissection beneath the xiphoid. That seems to me to be a common problem just from what I see referred to me. So I tend to err on the side of bringing it all the way up. Oh, the other issue, which again comes up a lot is getting the posterior layer closed. Really, the anterior fascia and the mesh are really what gives strength to this repair. And so- we need to do enough dissection that we make absolutely sure that the anterior fascia comes together without excessive tension. If we were having problems getting that together, we'd have to do more muscular dissection and usually what's called a transversus abdominis release, or TAR, if you heard us using the phrase TAR, to make sure that the anterior fascia could reach and that we could underlie enough mesh. But every degree of muscular fascia release, or every little additional dissection you do, adds a little bit of complexity and a little bit of risk, and I don't really like to jump to a TAR in order to relieve tension on the posterior fascia because the posterior fascia is probably not that important for the overall strength of the repair. And so you saw us doing a lot of hemming and hawing, and little interrupted stitches, which actually I had never done before to try to get an adequate posterior closure- without having to do either more dissection to release tension on the posterior layer, or the alternative would be to leave sort of a bare area, an unclosed area of the posterior fascia, and place a different type of mesh, a coated mesh, that could safely face bowel in that area. And- my concerns about that, other than, you know, aesthetics I guess, are- those coated meshes are designed not to incorporate on both sides, so you're losing some of the advantage of this technique where you can incorporate from vascularized tissue above and below the mesh. I worry that you could actually herniate through the posterior layer, but under the mesh, and that would be a risk for bowel obstruction. And- I worry that you just don't have that- you may be a little more prone to seroma or other forms of fluid collection- because your mesh is not covered on both sides by vascularized tissue. So in the end we got away without it, but you saw a lot of hemming a hawing about it, and that comes up a lot. Sometimes because of tension on the posterior layer, as it was in this case, sometimes because you have a lot of little holes in the posterior layer from either prior mesh repairs- by the time you've pulled out all the old mesh, you've made a lot of holes- prior ostomies and multiple sites of herniation, whatever it may be. So, you know, you saw us hemming and hawing a little- very happy with how that came out in the end, but it definitely took a little doing and you know, slowed us down. Well I mean the immediate post-op recovery for the first sort of day or two- we placed an epidural for this case, and I'd probably leave it for 2 days. Sometimes we'll get it out after- after one. Is just focused on getting her moving and sort of recovering from the incision. She did not have a lot of lysis of adhesions or bowel manipulation in this case, so- you know, ileus is a risk factor, or ileus is a risk- if people end up in the hospital for a long time, sometimes- that's often the reason- is- it's just- they're slow to have return of bowel function. I wouldn't anticipate that for her. And then around day, you know, 2 or 3, try to get her onto oral pain medication and get her out of the hospital. She's 76, and so sometimes- may kind of be here an extra day, just making totally sure that she's ready to get out of here. The drains that we left, depending on how long she's here, may or may not come out before she leaves the hospital. I usually base that on some combination of time and output. You know, if they're under 50 mL a day, when the patient's ready to leave, I'll usually just pull them. I'm happier to pull those drains on the early side with this technique because a seroma seems to be a lot less common than it is with subcutaneous drains, and anterior component separations where we leave a big subcutaneous space. And so I've started pulling drains earlier, and at slightly higher outputs than I do with some other hernia repairs, and haven't been burned by that yet. I get them out at the absolute latest by two weeks, but usually- usually before that. The dilemma comes sometimes when patients are ready to leave the hospital in a day or two, and drain output's just a little bit higher than you want to see before you pull it- over a hundred a day or something like that- and you don't want to bring them back like 3 days later, you may want to just see them at around 2 weeks. I do usually tell those patients, if they leave with drains, just call me, and if your- if your drains are less than- than 40 or 50 mL a day for 2 days in a row, just call, and we can have you- you can just come in, even if I'm not available, like one of the nurses in clinic or one of my partners who's in clinic can just pull them. And people are actually usually pretty willing to come in for that, even if they know they have to come back to see you a couple weeks later, they want to get rid of those things, so… And I don't limit activities. I know that's really common after hernia operations. If I think somebody's reasonable, I just tell them anything that doesn't hurt is okay to do. If I don't think somebody's reasonable, then I tell them don't lift more than 20 pounds for 6 weeks, but- strangely, patients are often unhappy being told anything that doesn't hurt is okay to do. They want to be told to restrict it sometimes, and so that's my made up restriction when people really demand some kind of restriction. For a sort of medium to large size central abdominal hernia, this is kind of my go-to technique because you know, my experience has been, and I think it aligns up with most of what's in the literature, it's got low recurrence rates, low rates of wound complications, and a reasonably quick recovery, and not- not a lot of morbidity from the dissection. You know, the main alternatives I would say at this point- would be laparoscopic repair, which I still like to use for smaller, mid-abdominal hernias. At this size- I just think it's- it's hard to get good- adequate underlay, circumferentially. People can do similar repairs to this one, but do them robotically, so it's sort of a minimally invasive approach to this. One of my partners is into that. So that's an option. You could do an anterior component separation, or external oblique release. When I started doing kind of more abdominal wall in my practice, and getting kind of bigger hernias referred to me, I- that's what I was doing. You know- 5, 6, 7 years ago- that was kind of my primary repair. I moved away from that because I've seen some long-term problems from intraperitoneal mesh placement. Not that these other techniques are immune from them. I think there is probably a higher rate of seroma and other types of complications with it. And by incising the lateral fascia, you sort of burn a bridge. If patients do recur- there's 3 layers to the abdominal wall laterally where you do an external oblique release, and once you've cut one- you kind of- increases the risk of doing any other release in that area. Whereas a retrorectus repair, which keeps things in the middle, can be repeated- can be repeated as part of a TAR if it needs to be. You can do an external oblique release and you haven't violated those planes at all, so- those are sort of the reasons I've moved away from external oblique release and intraperitoneal mesh placement, which is- I would, if I had to guess, I would guess is probably the most popular technique still, like nationally.