Leiomyosarcoma of Inferior Vena Cava: Resection and Reconstruction
Main Text
Primary leiomyosarcomas of the inferior vena cava (IVC) are rare tumors with complex anatomical relationships. Surgical resection remains the primary approach for management, with selective use of preoperative radiation and chemotherapy. Given the propensity for local invasion of these tumors, radical resection of surrounding structures is often required. Herein we describe the presentation, work-up, operative management, and outcomes of these lesions through the case of a patient with a tumor involving the middle segment of the IVC. Given the extent of involvement, IVC resection with en bloc right nephrectomy, right adrenalectomy, and partial left renal vein resection was performed with vascular reconstruction using a prosthetic graft. With appropriate preoperative planning and a well-coordinated multidisciplinary approach, aggressive surgical resection can be safely performed and patients can benefit from favorable long-term survival.
Representing less than 0.5% of all soft tissue sarcomas, leiomyosarcoma (LMS) of the inferior vena cava (IVC) is an uncommon neoplasm involving the smooth muscle of the vein.1 The disease is more commonly seen in females (3:1) in the fifth decade of life.2 Maximum tumor diameter has been noted to range between 8-37 centimeters.3 In addition to involvement of the right kidney or adrenal, direct extension to the right or left liver, infrarenal aorta, intracardiac region, and supradiaphragmatic right lung have been noted.3 In the majority of cases, patients receive a preoperative histologic diagnosis by either percutaneous biopsy or laparotomy.3
A 73-year-old female presented with a history of intermittent lower back pain, lower extremity swelling, and a six-pound weight loss over the course of a year. Her past medical history was notable for hypertension for which she took atenolol, hydrochlorothiazide, and nifedipine as well as reflux for which she was maintained on omeprazole. Upon workup by her primary care physician, she received a computed tomography (CT) scan of the abdomen and pelvis demonstrating a mass along the juxtarenal IVC that was biopsied and found to be consistent with leiomyosarcoma (Fig. 1).
The most common presenting symptom for patients with IVC LMS is abdominal pain (59.9%), followed by lower extremity edema (14.8%), weight loss (11.4%), back pain (9.7%), and abdominal distension (9.3%).1-4 Lower extremity edema is thought to only occur in a fraction of patients likely due to the development of venous collaterals in the setting of slow tumor growth. Much less frequently, deep venous thrombosis (1.7%) or Budd-Chiari syndrome (1.3%) are responsible for presentation.1-4 Additional signs such as cardiac arrhythmia may be present in patients with intracardiac tumor extension into the right atrium. As mentioned, our patient presented with a history of intermittent lower back pain, lower extremity swelling, and weight loss. On physical exam, however, she was well appearing, had a soft, non-tender abdomen without hepatosplenomegaly, and was noted to have non-edematous distal extremities. Her exam was otherwise unremarkable.
Axial imaging using CT or magnetic resonance imaging (MRI) constitutes the primary imaging modality for evaluating patients presenting with LMS as these scans provide details on the extent of tumor, local invasion, and distant disease. On CT, LMS of the IVC appears as a heterogeneous, non-calcified mass with peripheral enhancement.5 MRI images are notable for low signal intensity on T1 weighted images and high signal intensity on T2 weighted images.5 A portion of patients may also receive abdominal ultrasound, where real-time Doppler may delineate the degree of vascular obstruction and thrombosis. Although invasive studies such as ascending or retrograde cavography and selective arteriography have been advocated by some authors,3 they are becoming less common given the increased resolution and reconstructions that can be obtained through noninvasive axial imaging. CT images may be further enhanced by delayed phase or venous phase images that can better delineate the IVC and residual flow lumen. Lastly, in patients in which there is concern for intracardiac extension of tumor, transesophageal echocardiography should be obtained preoperatively.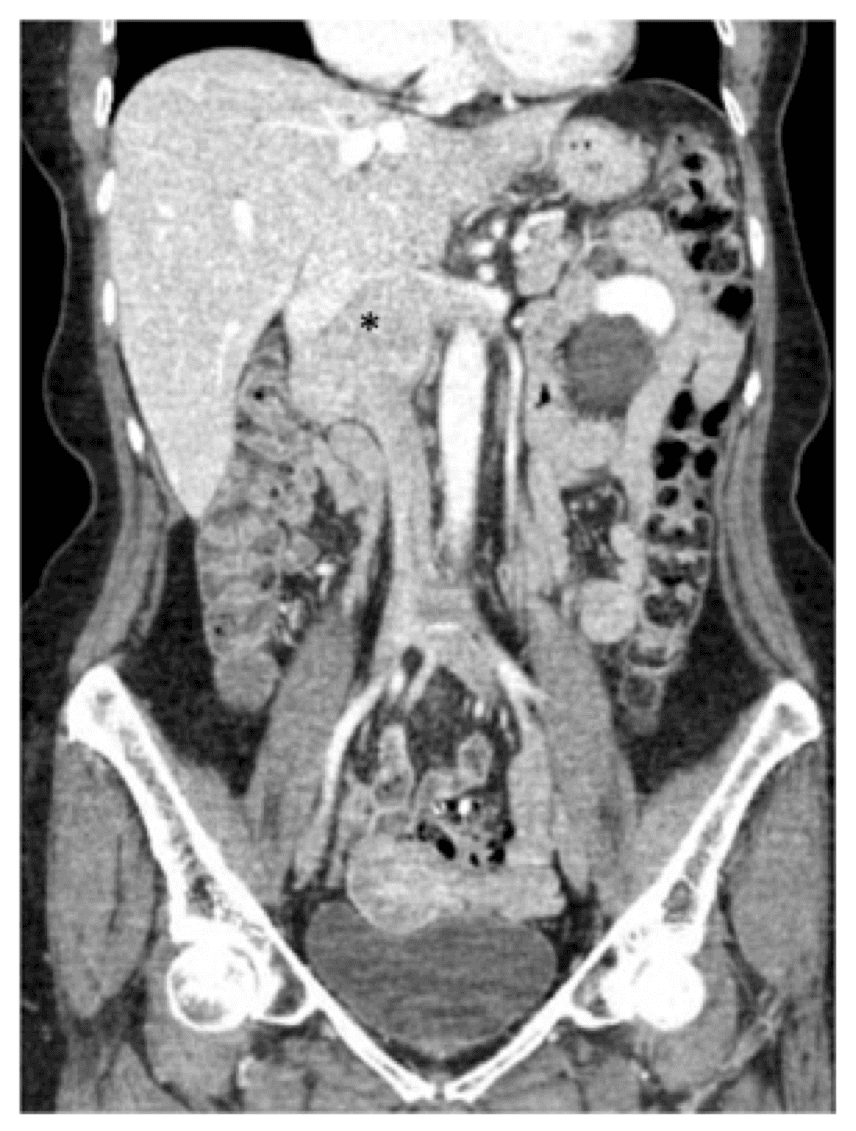 Fig. 1, Preoperative computed tomography (CT) scan of the abdomen and pelvis demonstrating the known leiomyosarcoma centered in the infrarenal inferior vena cava (asterisk), extending superiorly to the level of the hepatic confluence and laterally into the renal veins.
The patient in this report underwent a CT scan with contrast of the abdomen and pelvis, and we noted a 7.5 cm mass involving the IVC beginning at the level of the renal veins (the right renal vein was extensively involved and there was also involvement of the origin of the left renal vein) to the level of - but not involving - the hepatic veins (Fig. 1). The duodenum and pancreas were noted to be displaced anteriorly without evidence of direct invasion.
Primary IVC LMS has been found to be uniformly fatal and without 3-year survival in patients who received incomplete resection.1 On pooled analysis, in patients undergoing surgical resection, 1- and 5-year disease free survival (DFS) has been noted to be low (57% and 6%, respectively). However, overall survival has been favorable (92% and 55%, respectively).2
Complete surgical resection is the preferred treatment for patients who can tolerate surgery and often necessitates en bloc resection of involved adjacent organs. Resection with ligation of the IVC can be performed for infrarenal tumors or those necessitating resection of the right kidney in which substantial collaterals for the left kidney have formed. In approximately a quarter of patients, partial IVC resection can be performed.3 It has been suggested that if < 75% of the IVC is resected, primary resection or patch cavoplasty can be used, but in cases where > 75% of the circumference is removed, complete resection and reconstruction is needed.6 For those requiring reconstruction, a ringed polytetrafluoroethylene (PTFE) prosthesis can be sized to match and can be sutured in place with a 4-0 or 5-0 polypropylene suture. The use of chemotherapy or radiotherapy either as neoadjuvant or adjuvant therapy may have an increasing role. However given the rarity of this disease and the paucity of treatment outcome data available to date, these modalities are currently tailored to each individual patient after multidisciplinary discussion, and there is variability in their application.
Given the rarity of primary IVC LMS, there are limited studies supporting a non-operative approach, and complete surgical resection remains the optimal management strategy.2 In efforts to decrease the risk of recurrence at the retroperitoneal margin as well as tumor seeding of the peritoneal cavity at the time of surgical resection, our institutional practice for the management of retroperitoneal sarcoma involves neoadjuvant radiation therapy followed by radical resection and chemotherapy if deemed necessary after reviewing and discussing final explant pathology. Specifically, our patient was enrolled in a National Cancer Institute (NCI) sponsored trial (DFCI/HCC 12-100) in which they were treated with 63 Gray (Gy) to the retroperitoneal margin and 50.4 Gy to the whole tumor area using pencil beam scanning protons over five weeks. The patient tolerated this well, had a stable re-staging scan, and subsequently proceeded with radical resection of her retroperitoneal sarcoma with en bloc resection of the right kidney, the right adrenal gland, the inferior vena cava, and a portion of the left renal vein as detailed below (See Procedure Outline).
The first description of a primary IVC LMS was in 1871 by Perl,7 followed by the first resection by Melchior in 1928 in which the patient died 2 weeks postoperatively.8 With advancements allowing for preoperative planning, refinement of surgical technique and exposure, and improvements in critical care, 30-day perioperative mortality after resection of IVC LMS is now 1.9%.2 However, there remains substantial 30-day morbidity (24.7%).2 Nonetheless, surgical resection remains the primary treatment strategy. With this approach, long term 5-year DFS has been noted to be low (6%) whereas 5-year overall survival has been favorable (55%).2
Until recently, a number of reports in the literature studying IVC LMS were limited by small sample sizes. A pooled analysis by Wachtel et al. has allowed for the most comprehensive study including 377 patients.2 Upon adjusted analysis, factors identified as leading to decreased overall survival included large tumor size (≥9 cm), older age (≥55 years), the need for en bloc resection, positive margin status, adjuvant chemotherapy, and tumor location. Specifically, primary IVC leiomyosarcomas are classified according to extent of venous involvement and are described by the upper limit of the tumor and the degree of tumor extension. Using this classification system, segment I tumors are infrarenal, segment II are interrenal and/or suprarenal up to but not including the suprahepatic veins, and segment III are those which extend into the suprahepatic veins and have possible intracardiac extension. Segment II, or middle segment, tumors are the most common and have been found to have better outcomes than those arising in either segment I or segment III.2,9 In part, this is thought to be due to early recognition of tumors in Segment II due to a closer anatomic proximity of these tumors to multiple organs which may lead to pain or obstruction.2 Our patient's tumor could best be classified as a segment II lesion.
A few comments regarding the operative procedure for IVC LMS resection and reconstruction warrant further discussion. Regarding exposure, an abdominal approach (median laparotomy or right subcostal incision) has been used in the majority of cases (60%) whereas a thoracoabdominal approach with possible sternotomy can be employed depending on the distinct anatomy of the tumor being resected.3 Specifically, for tumors extending into the retrohepatic or suprahepatic vena cava, total hepatic exclusion by means of clamping the IVC above and below the liver in addition to clamping of the portal vein may be necessary. In patients with intracardiac extension, adequate exposure to allow for cardiopulmonary bypass may be warranted. In general, patients with tumors isolated to the infrahepatic and pararenal cava will likely tolerate complete cross-clamping of the IVC without significant hemodynamic alterations as long as adequate preload is ensured with appropriate intraoperative resuscitation by the anesthesia team. With regards to technique, in patients with venous hypertension (proximal venous pressures of 30 mmHg or greater), reconstruction (as opposed to ligation, primary resection, or cavoplasty) is recommended to prevent postoperative lower extremity edema.3 Furthermore, reimplantation of the renal or hepatic veins may be necessary depending upon the extent of tumor resected. There currently is no standard for postoperative anticoagulation management, and antiplatelet aspirin therapy, as was used in our patient who was discharged on 325 mg of aspirin daily, is associated with low rates of postoperative graft thrombosis.10
Randomized controlled trials evaluating the efficacy of chemotherapy or radiotherapy in the management of IVC LMS may never be published due to the rarity of disease. Final pathology of our patient was notable for a grade 2/3 leiomyosarcoma (yPT2bN0) with negative margins. Upon discussion with medical oncology, we decided she did not require any additional adjuvant therapy. Regarding follow-up, interval CT scans should be used to evaluate local recurrence and distant metastasis based on risk for recurrence.6 We obtained our first surveillance scan at 3 months, and it was normal. In cases of distant recurrence, surgical resection is recommended as is the use of systemic therapy for those unable to tolerate an operation.4
Prolonged survival in patients with IVC LMS is possible and requires a multidisciplinary approach. Although surgery remains the cornerstone of treatment, the involvement of medical and radiation oncology as well as multiple surgical subspecialties (eg, surgical oncology and transplant surgery) is encouraged to optimally manage and individualize treatment for patients with this rare malignancy.
The authors have no relevant disclosures.
The patient referred to in this video article has given their informed consent to be filmed and is aware that information and images will be published online.
Citations
Hollenbeck ST, Grobmyer SR, Kent KC, Brennan MF. Surgical treatment and outcomes of patients with primary inferior vena cava leiomyosarcoma. J Am Coll Surg. 2003;197(4):575-579. doi:10.1016/S1072-7515(03)00433-2.
Wachtel H, Gupta M, Bartlett EK, et al. Outcomes after resection of leiomyosarcomas of the inferior vena cava: a pooled data analysis of 377 cases. Surg Oncol. 2015;24(1):21-27. doi:10.1016/j.suronc.2014.10.007.
Kieffer E, Alaoui M, Piette JC, Cacoub P, Chiche L. Leiomyosarcoma of the inferior vena cava: experience in 22 cases. Ann Surg. 2006;244(2):289-295. doi:10.1097/01.sla.0000229964.71743.db.
Cananzi FCM, Mussi C, Bordoni MG, et al. Role of surgery in the multimodal treatment of primary and recurrent leiomyosarcoma of the inferior vena cava. J Surg Oncol. 2016;114(1):44-49. doi:10.1002/jso.24244.
Ganeshalingam S, Rajeswaran G, Jones RL, Thway K, Moskovic E. Leiomyosarcomas of the inferior vena cava: diagnostic features on cross-sectional imaging. Clin Radiol. 2011;66(1):50-56. doi:10.1016/j.crad.2010.08.004.
Dull BZ, Smith B, Tefera G, Weber S. Surgical management of retroperitoneal leiomyosarcoma arising from the inferior vena cava. J Gastrointest Surg. 2013;17(12):2166-2171. doi:10.1007/s11605-013-2385-0.
Perl L, Virchow R. Ein Fall von Sarkom der Vena cava inferior. Archiv für pathologische Anatomie und Physiologie und für klinische Medicin. 1871;53(4):378-383. doi:10.1007/BF01957198.
Melchior E. Sarkom der Vena cava inferior. Deutsche Zeitschrift für Chirurgie. 1928;213(1-2):135-140. doi:10.1007/BF02796714.
Mingoli A, Cavallaro A, Sapienza P, Di Marzo L, Feldhaus RJ, Cavallari N. International registry of inferior vena cava leiomyosarcoma: analysis of a world series on 218 patients. Anticancer Res. 1996;16(5B):3201-3205.
Fiore M, Colombo C, Locati P, et al. Surgical technique, morbidity, and outcome of primary retroperitoneal sarcoma involving inferior vena cava. Ann Surg Oncol. 2012;19(2):511-518. doi:10.1245/s10434-011-1954-2.
Procedure Outline
Introduction
Exposure

Perform Makuuchi Incision
An inverted L-incision was made through the skin with a knife and carried down through the midline fascia and then the anterior rectus sheath.
Divide the Camper's and Scarpa's Fascia
Divide the Rectus Sheath
A Kelly clamp was used to elevate the rectus fibers and divide them taking care to control the superior epigastric bundle.
The posterior sheath was divided and the abdomen entered laterally as well.
Tie off Inferior Epigastric Vessels
Enter Peritoneal Cavity
Setup Thompson Retractors
Mobilization
Perform Kocher Maneuver
The hepatic flexure and ascending colon were mobilized off their retroperitoneal attachments along the white line of Toldt.
A wide Kocher maneuver extending partially beneath the root of the mesentery was performed thereby completing a Cattell-Brash maneuver to expose the entire infrahepatic vena cava.
This maneuver also revealed the tumor and the kidney.
Mobilize Right Colon
Tie off Feeder Vessels of Tumor and Bleeders
Several small branches on the anterior and posterior surfaces of the vena cava were ligated with ties and divided.
A vessel loop was used to encircle the vena cava.
Expose and Tie off Right Gonadal Vein
An enlarged gonadal vein was identified, tied, and divided.
Mobilize Structures
The medial aspect of the vena cava was dissected free, clearing away the lympho-adipose tissue.
Isolate Left Renal Vein
The left renal vein was identified, carefully skeletonized, and encircled with a vessel loop.
Tie off Branches of the Vena Cava
Focusing dissection on the segment of inferior vena cava superior to the tumor, several other short hepatic veins were divided, and the caudate lobe was dissected off the IVC.
The main right adrenal vein as well as an accessory right adrenal vein were identified, ligated, and divided.
An additional vessel loop was placed around the distal aspect of inferior vena cava (superior to the tumor).
Ligate Right Renal Artery
The right renal artery, which was immediately posterior to the left renal vein, was identified.
Given preoperative imaging and understanding that the right kidney would need to be resected en bloc, this artery was ligated and divided.
Continue Retroperitoneal Dissection
Shifting focus to the retroperitoneal dissection, the hepatorenal ligament was opened and the retroperitoneum entered with dissection carried down onto the diaphragm, superior to the tumor.
The right adrenal gland was freed from surrounding attachments taking some vessels between clamps as necessary.
The dissection was extended inferiorly and the right ureter was identified, ligated, and divided.
Tumor Resection
Review Progress
At this point, the right adrenal and right kidney were totally mobilized in conjunction with the tumor such that the only remaining attachments of the tumor were the proximal and distal cava, as well as the left renal vein.
Harvest Muscle Sample for Resection
Control Additional IVC Branches
Administer Heparin and Obtain Proximal and Distal Control
1000 units of systemic heparin were administered.
Clamps were placed on the infrarenal vena cava, left renal vein, and suprarenal vena cava.
Resect Tumor
The vena cava above and below the tumor and the left renal vein were sharply divided, allowing removal of the en bloc specimen.
The specimen was taken to pathology and margins were noted to be clear of tumor.
Place Inferior Vena Cava Graft
A 20-mm ringed Gore-Tex graft was brought onto the operative field to reconstruct the vena cava.
The suprarenal anastomosis was performed with a 5-0 Prolene in a running fashion with sutures placed at the 3 and 9 o'clock positions and then run along the back and front walls respectively. The graft was filled with heparinized saline solution and the clamp was moved off the suprarenal cava and onto the graft.
The infrarenal anastomosis was performed with a 5-0 Prolene in a running fashion as before, after the graft was trimmed to an appropriate length and distal rings were removed.
The suprarenal and infrarenal vena cava clamps were released.
Divide IVC and Left Renal Vein
Place Renal Vein Graft
A small cuff of gortex was fashioned into an interpositional jump graft to allow for a tension free left renal vein anastomosis.
This cuff was sewn to the left renal vein.
A side-biting Satinsky clamp was placed on the caval graft after removal of the rings at the anticipated location of the left renal vein insertion.
A graftotomy was created on the medial aspect of the graft and using 5-0 Prolene a graft to graft anastomosis was done in a running fashion - again similar to the previous anastomosis.
Clamps were released and flow was assessed.
Closure
Create Omental Pedicle Flap
A pedicled omental flap was created by taking omentum off the transverse colon and the greater curvature of the stomach and dividing the left gastroepiploic vessel.
This was placed overlying the graft into the right retroperitoneum.
Remove Retractors
Hemostasis was ensured.
The Thompson retractor was taken down, and the abdominal contents were inspected.
Close Abdominal Wall
Close Fascia
Close Skin
Post-Operative Interview
Analysis of Sarcoma Margins
Transcription
CHAPTER 1
I'm Parsia Vagefi. I'm one of the liver transplant and hepatobiliary surgeons at Massachusetts General Hospital. And I'm Alex Haynes from the Division of Surgical Oncology. I'm a sarcoma surgical oncologist also at the Massachusetts General Hospital. Today, we're going to be presenting the case of a woman with a infer - inferior vena cava leiomyosarcoma. This was diagnosed when she was having back pain and was biopsied and found to be consistent with a leiomyosarcoma. She underwent preoperative radiation with a proton beam radiation to 63 gray, and she's presenting today for resection of the tumor.
The tumor appears to be involving the infrahepatic vena cava as well as the origin of the left renal vein and the hilum of the right kidney, and today we're going to remove it in an en bloc resection with reconstruction of the vena cava and reimplantation of the left renal vein. The operation will proceed with her preparation where she'll get an epidural catheter along with central lines and arterial lines by our anesthesia colleagues, and then we'll make an incision. I like to use an inverted L Makuuchi style incision for excellent exposure to the right upper quadrant. We'll then mobilize the duodenum and right colon in a Cattell–Braasch maneuver to expose the entire anterior surface of the vena cava and the tumor.
Once we do this, we will encircle the vena cava above and below the tumor and soft, non-involved portions as well as the left renal vein. We'll mobilize the right kidney out of the retroperitoneum and divide the right ureter. We'll divide the right renal artery and free up the kidney and adrenal entirely together with the tumor to remove as one specimen. Once we have done this, we'll place clamps at the - the three division point to the vascular structures and sharply divide - divide the - the vena cava and the left renal vein.
At this point, Doctor Vagefi will reconstruct the vasculature. We'll use a ringed synthetic graft and - to reconstruct the vena cava. We'll first do the suprarenal anastomosis, using a continuous suture of Prolene and then do the infrarenal anastomosis. Then we'll unclamp and allow for vena cava flow to be restored. At that point then, we'll reconstruct the left renal vein either directly into the caval graft, or we might have to use a small extension of graft - interposition graft in order to allow the left renal vein to reach the caval graft.
And then once that is completed, then Dr. Haynes will complete the operation with closure. I also typically perform an omental pedicle flap for these kinds of operations where we divide the left gastroepiploic artery in order to allow the omentum to be turned into a pedicle to place in the retroperitoneum to fill up the dead space left behind by removal of the kidney and the tumor and to provide some biologic soft tissue covers for the - the synthetic graft.
CHAPTER 2
Knife, please. So unlike for an adenocarcinoma or someone who has a high risk of perineal mets or other things, we're not going to - you don't need to do the incision in parts. We'll just do the whole thing. Now, if this were for liver or something like that, I'll often make just the vertical midline part, explore, and then finish it, but... This is called a Makuuchi type incision. You use it at - on either side. It was developed by Makuuchi in Japan for - for gastric surgery with a leftward-swinging horizontal limb, and it provides great access for liver - liver surgery or right retroperitoneum.
Not quite on the midline - let's see. I think that might be your side - hard to say. Let's clear off a little bit more. Think that's going to be midline there. Yeah. Good. Why don't you go ahead and get in? I'll take a Richardson, please. Sometimes from the radiation, they end up with some adhesions - more than you expect from someone with a virgin abdomen but - gotcha. That should be in, I think. This one in - right there, yep. This is going to be actually right here. Probably don't need to be any higher - further up - I don't think. It's now - I'll protect from the inside. Same way - open up sub-Q and then go through layer by layer.
So just go through - don't go through the rectus - no - once - because we'll fight the funnel - find the in - the epigastric. I mean, it's not the end of the world if you find it post hoc. Just clear off the rest of it up laterally. We'll take this edge rectus there. We'll just go through it layer by layer. This is the part where I get to be an ambidextrous surgeon. Should be in there somewhere...
Let's take three ties here. Thanks. DeBakey. That's up to start. Another Schnidt. Another Schnidt. Bovie.
When it's done right - edge of sheath, you can see the different layers come together. It's nice abdominal wall anatomy too. So it's - we're free enough to get the Thompson in, I think. Good one guys. That's great, thanks. Get just a little bit - Bovie. I - I always like to take this like out here because it makes a handle, and if - and if you really want to go nuts, you can take it long, and you have a nice - you can use it as a - Metz - you know, buttress to suture lines and the like. Good, I think. Yeah.
How high up do you want this? Yeah - same as yours? Yeah, so just even with mine. So the top - top one is the crossbar. Crank. Alright, we'll take the sidebars. So let's see. Let's start with - actually, we'll start with - on this one. We'll take a bladder blade. To the top or - to the top, yep. The construction - the - the reason why I like the Thompson for these kinds of cases - yeah, very usable - is because you - you make - you make it up. You know, so you - you can make it fit what you need. Okay, and go ahead - good there. Rotate the bed towards me, please. So now we'll start with our - our Kocher.
CHAPTER 3
So why don't you pick up on the - yep - on the hepatoduodenal ligament. DeBakey and Bovie. Got it. And Schnidt to me. And just bring it back, yeah - just to get maximum mobility. So we're just widely Kocherizing the duodenum here to expose the vena cava and the tumor behind it. Great. Schnidt to me. This is going to be our plane of dissection right here because this is the anterior surface of the cava that we're seeing here sort of ballooned out by tumor, and I think we're already over to the left side here - yep. Okay. So yeah, we got to get through all that too, which is sometimes easily - better done with just the finger. This is a little bit different than doing this for Whipple because we're going to keep the duodenum, so we need to be gentle with it. Yep.
So I think we're starting to see that gonadal that we saw that was so enlarged. I think that's what we're saying right there. We probably need to mobilize the right colon just to get it out of our way. Sure. But as you can see, it's not in any way stuck to the tumor, so we definitely will not need to do anything to her colon. Sometimes, it's hard to tell from the scans if things are just abutting tumor or stuck to it, but this is clearly - was an abutting. We're going to need a packing towel. That's more or less a full Cattell-Braasch now. I mean, I guess, technically, didn't - you'd take it all the way down to the cecum, but I don't think we need to do that - think we're pretty far over already. Get this just a little bit more over. This brought away over to aorta here. Let's just get all this over. Just do all of this because we really want just all the viscera over on the left. Actually, it almost just stays there on its own, doesn't it? Right. You have a right angle to me? Here you go. Yeah.
So this is some - I probably need to tie that. Yep. 3-0 ties, please. Two? Three. Another tie. A lot of these who tend to be pretty paras - fairly parasitic... So one thing we didn't talk about with her Jahan is she got pre-op radiation. She's on a protocol that we're doing now with using protons through our preoperative dose-painting of the high-risk margin, and so she got - instead of the 50.4 gray that we typically give to retroperitoneal sarcomas, she got 63 gray, using protons that provide a - you know, sort of a - a pre-emptive boost essentially to the high-risk margins, so that's why we're not doing it in the intraop radiation room. We often will use IORT on these patients. Metz, please. Putting it - you have it? I've got it, but... Ready? Suction. There's something else still going there. Dry it out, please. Metz. Another DeBakey. Suction. Quite small. Yes. Another right angle. Do you know? Did you get it? Nope. It's just anterior to something up - put a stitch in it maybe? Yeah. Can I get a - you know, like a 4-0 Prolene? Let's go ahead and tie these other ones. Sure. I'll hold it. Skip 3-0 - 3-0 ties first. You know, normally, there shouldn't be a bunch of anterior branches of the cava here, but since there's tumor, all bets are off. Stitch. Let's just get nice and clean. Everyone - a single is fine. Okay, give me one 30. Cut this 2 inches for my finger, please. Needle down. Squirt my hands, please. Get that cleaned up a little bit.
Alright, so let's go ahead and they - get the gonadal out now I think. Right angle. Bovie. Alright, Schnidt, Schnidt. We'll probably want a 2-0 silk stick tie, please. Uh, actually, I'll just use the right angle for the top half here. Metz - Metz. So that's the gonadal vein - quite enlarged. Like we did the caval obstruction except... Suture scissors and then I'll - they'll cut. Another tie to us - actually, a stick tie. So we'll find the ureter back here. That's - that's it right there. We take it. That's - that's nice soft surface of cava there, so that'll be a perfect in our - that will be a good transection point right about where we put that stitch. Cut the needle, please. Needle back to you. I'm sure a free tie would have been fine - but just because it's so big. Alright, a little squirt of irrigation, please. And a dry lap. Thanks.
Well that portal structure, which we want to kind of peel off the tumor - see those retroperitoneal collaterals - you know, this right there. It's a lot more than what we usually have back there. Where we - so I guess we can get our retractor down under here and start opening up that space. We'll have to figure out if we're going to need to mobilize the liver anymore or not. Let's get this out here. Sometimes, once you start getting behind the liver, you start finding direct branches of the cava to the - to the liver, so we'll keep our eye out for that as we start heading north. And that looks like a little - a branch there? Yeah. Go ahead and open there - you want to tie it? Yeah, or tie it. That's kidney right here. Why don't you go ahead and take a feel? Yep, kidney's there - all the way back to there, yep. We need to get that up of course. Sucker. There's a place to get around it right there. Okay. Alright, so let's keep coming back - open up the lateral side here. Right angle to me. So why don't you take the tumor over towards you? So this is all that aortocaval nodal tissue, but this is going to be our left - vein - right there - I think it's going to be left right here, and then that's going to be vein, cava. Right angle, please.
Alright, so now - so that's - that's left renal vein. It's interesting. It seems very, more - I guess there's tumor right there - behind it, yeah. You can tell that that - yeah - sort of ends right there. You mean, right there. So this is probably, again, a pretty good spot. Let's just keep - on the other side. Let's keep clearing this off a little bit more. But, you know... Some stuff you want to grab and burn or something like that - that's just, you know - DeBakey, please - just that lymphatic tissue that can be annoyingly oozy. Dry lap. Another little branch right here, right? 3-0 - 3-0 ties. Especially, prefer to not to put a lot of cl - you know, if possible, not put a lot of clips on this, you know - another tie. Well, this - this is all - probably all going to go here, but... Actually, a - just a blue clip to me. Suction. Good, and up. Yeah, that's renal. Yep. You probably have a good shot with your right hand. Alright, can I get a right angle? Do you have a vessel loop, Lauren? Do you have a - my clamp? The Vagefi clamp. I would probably try and put it through with a minimal of spreading. Sure. It's sort of like - it's sort of like doing the - vessel loop - tunnel on a pancreas. Loop. Is this long? It is long. Fantastic. Alright, so now I've got the left renal vein isolated.
Let's - let's go ahead and do - do the inferior border here. DeBakey. Bovie. So this is nice and soft all through here, so I think - we get around right there? Yeah, so why don't you take the right angle? I'll take the DeBakey, so - so we do - I mean, we've got plenty of exposure here, so let's do it under - DeBakey to me - under vision. You want me to go around now? You will see - see it - maybe, you want to throw this at Jahan. Just clear it off a little bit, yeah - just, I mean, because, you know, there's no reason to go through there blindly - sure - because we have it so cleaned up. Bovie to me. Yeah. And we've already found anterior branches that we weren't expecting, so. And posterior branches are bigger pain in the butt. Good, up now. Does that go around? Yeah, why don't you - want to come - let's take a little bit on this side. Let me get the suction and just clear it out for you. Okay. You want to get around that? Pi - yeah, so do you want to get around - you want to get around the cava or the branch first? So we can get around the cava proximally - yeah, and then we can lift it up and then decide what to do about that branch. I mean, if we don't need to take it, we can leave it. Yep. There's another small branch on my side. A lil - just a little bit deeper, yeah. There you go. Actually, you know what? There's a small branch right where you're coming out - woah, vessel loop. Just south of you, there's another one of those little ones. Alright, infrarenal cava. Do we have another posterior branch there because I thought I saw - let's see - just a large - yeah, right back there. And then the question is - do we need to take it out? And I don't know if we do. It's probably - this is probably our clamp right. Yep. That leaves enough room to sew. Let's leave it for now, and if Parsia wants to take it to give himself more room to sew, then that's fine.
Alright, so now, let's see - is - can we get the renal artery here? Should be directly behind that vein because of the scan, so - yeah. Clear this edge off here. Yeah. So let's see. I wonder - let's see if we can get - let's reposition this now as you got that all over, so we can get all this. Yeah, so there's aorta. Let's clear off actually the top part of here, I think. I don't think we've cleared this off very well, yeah. So why don't you take the tumor towards you? Bovie to me. I don't see - I don't see anything yet. It's just on stretch. She actually has less sort of radi - radiation edema and scarring than I'm used to. I think we waited a little longer on her just for - out of scheduling reasons, and we usually wait a month or so after the - after the completion of radiation to - to start for surgeries. Yeah, a little branch in there.
3-0 ties, please. It's just - however, you know - I got this. However much of a pain it is to do all this, it's better than just chasing little bleeding stuff over and over again. These are just direct caval branches to the liver. Yeah, I mean, because we're - you know, we're really right underneath the liver, and another way of approaching this would be to totally mobilize the right lobe of the liver and come at it laterally. But - right - ultimately, I don't think that's going to be that helpful, and by doing it all in this one exposure, it's going to make it - the rest of it that much easier. Why don't you go ahead and tie this one? I can put another retractor in there and get - it might be helpful. Let's get a mo - a moist lap too. So put it like that maybe. Go there. Yeah, that's good. Okay. Yeah, that'll allow us to get the cava out. Right angle, please.
Let's re-adjust this. Still 3-0 tying? Yeah, you can see we're - there's tumor. This is soft normal cava above it. Here's soft normal cava below it. Another tie and a pass. There's all these little tiny branches. Bovie me. DeBakey's. Right angle. You can just go ahead and separate the inside of adrenal - adrenal from underside of the liver. Suction. Suction. Gently come ar - I think we can come around here, I think - with enough space cleared off. Okay. Now, let's go back for that renal artery now that we've got these two. I think we should be able to find it either by doing this or the other way. So, if you can feel it and get a sense... Definitely on aorta, obviously, but it's hard to differentiate whether there's a renal artery pulse. Yeah. So, alright - we just have to mobilize more on that side. You can mobilize a little more. Can I have a peanut? And I pickup to me. Bovie to me.
You know, let's just get a little bit of this cleared off, and then we'll get that branch. I think I've got something in my hand. Why don't you buzz me? Can you buzz Alex? It's right - right there. In your right hand? Hang on - my left hand. Okay. Nope, that didn't help - made it worse. Suction. Yep. Large sucker, please. Long needle driver. I don't know if it's a second branch or if we - we tore the crotch of... Make sure that end's straight. Can I have a finer needle driver on this side? Let go of that end, please. Alex, can you pull that for me? Yep. Get suction. I - I'll hold it. Sure. Cut that needle off. One more tie. Want my hand? Wet, please. Right hand. Can I have a blue clip? There's a little tear in the vessel - little proximal one in there. Alright so now, let's get a little higher up here. Right angle to me. Bovie. This is the end of the tumor here, I think. Yeah. Yeah. That's artery right there. Why don't you go ahead - check it out? Yep. Okay, can I have a DeBakey and some Metz? Can I have the long Metz? And there - there it is. We can go ahead and take that soon. Can I have a long right angle, please?
So we're going to take the right renal artery. It's always nicer to take that first - obviously, not always possible, but. We also can just tie it and then finish it later once we have - once we take - you know, but we'll see. When possible, I like to do this before taking either the ureter or the... Umm, sure. We may have enough space to really take care of it now Suction. Retract that tumor over for you. Dry lap in. Give me a large clip, please. The renal artery has always amazed me because it - you know, that they're such a critical thing, but they're not big. No. Another large clip. Or are you okay with that? It's fine on the specimen side. I'll take the Metz - big ones. The right renal artery is out. Or well, the - the lateral retroperitoneum. Make sure you get all the - You can go a little - get - get the - all the lap up under the fingers and most of it - yeah, perfect. That's great.
So now we're separating it. This is the hepatorenal ligament here. So now I've got my hand all the way behind the kidney. So let's t - let's - let's free it up inferiorly. A right angle, please. We're quite a ways away - away from the tumor here, so this isn't - you know, I'm not worried about margins or anything. It's different when - you know, if it's like a liposarcoma or something where you're - and we also should remember that we may find some more of those enlarged collaterals here - more than you would ordinarily. And there's the fairly free shot. Ureter's going to be right in here. We dissect it and find it. Let's get - this small bowel is - wants to come out and play. DeBakey. If you're doing this for like a - I don't think it's a miss, but it might be. This is - just Bovie it, I think. I don't think it's in there. That's too lateral. And, you know, unlike in like the other disease process, there's no reason to try and take it down low. Sure. Ties on passes. Metz first.
So right ureter's out. Ordinarily, that's a fairly free shot, but... So we connect this with this. How about a Schnidt? We'll take a Metz next with 0 ties on long passes. DeBakey. So now, let's see if we can get this to come down a little bit more. Buzz right there. Big sucker. Suction points will need to come back here. A Schnidt to me. May be some small branches in here, so don't - just because I'm showing it to you, don't buzz it. Yep. Sure, just tell him everything is going great and moving along. She is doing great.
Okay, so now we can come through some of this stuff. Sounds good. Down to the retroperitoneal musculature here, which is perfect. That is the plane we wanted to be in. Want there? Yep. We're high enough up that we don't need to worry about femoral nerve on this - it looks. Adrenal attachments. Yeah, I think so because we're actually very close to ready for him. Taking this off. So just invade from the top? It's just we've got the cava all the way up there. Do you want me to go through? Yep. May be some branches back there, so. So that's actually pretty free there up to the left. So there's probably a few more bits we need to get above. Let's see. If you come here, that's - you know, right here, you free up the adrenal. Oh, Schnidt, please - not the giant one - the next one down. No, not at all, because this tumor is relatively posterior, so I think it's coming off the - either the posterior wall or the cava or the right renal vein. So what was pushing the duo up was the anterior wall of the cava, so it just came right off - same with the colon, yeah. Right here is the final attachment for that tumor. Yep. Just stop that here. That needs to come. I think this is just crap. Yeah. Right angle, please.
CHAPTER 4
Alright, so where's Jahan? Jahan? You want to - you want to see what we're doing? Yeah. There. So alright, so we see here we've got cava above the tumor - okay - left renal vein - my god - cava blow the tumor. We got the right kidney totally mobilized. We've taken the ureter down low. We got it up off of the retroperitoneum, and there's the - the - the right retroperitoneum. We got it free, and actually I have my - wow - hand here completely underneath the cava. See? And we've, you know, freed up a whole bunch of like little tributaries there, so basically we're ready to get the thing out. So we'll clamp the - where the vessel loops are - okay - and then take a pair of scissors, cut those out, and then the resection's done. And then we'll put in a tube graft - yeah - and then implant - do a side branch to implant this, and so... I think.
So maybe we'll take a little piece of abdominal wall muscle. I think this is - this is totally free here. I don't know. Is there anything? And it's really pretty much just cava, I think. Maybe a few - little bit of schmutz right up here, but - alright, let's get that piece of muscle for the lab. Yeah, let's take this out. Here let's - let's see - maybe just this little - little bit of rectus right here. Do you have an Allis? This will be like one square centimeter basically. Should I page Michael that we have a specimen coming out? Matt. Yeah, page - page Matt and just tell him we'll have it - we'll have his muscle specimen for him right now. So this is not going to pathology. So - yeah, we call it a portion of right - right rectus. So why don't you get scissors and cut it out? I don't know what - I don't know what it is that they're doing with it, but we'll hand them something that's cooked. Actually, can I have a big - your silk tie? You want to just cut it off? Sure, yeah. Scissors to me. Alright, here's your muscle.
3-0 Prolene - well, 5-0 because it's close to where he's - where we're going to clamp. Let - I think you can let - I think you can let go. Maybe not - maybe not. Actually, come in and pick up - DeBakey's - it's actually right there. Close by you? Yep. We were bored waiting for you, so we just kept going. This is stuff that will be ea - much easier - you know, it's the schmutz behind it that once the cava's cut, it will come out, so it's t - totally - pretty much totally free except for - is there a lot of left adrenal? Eh, maybe like right at the origin there's some tumor there, but it's very soft - quite proximally - or distally if one wants to be totally pedantic about it. Alright - is this the - yeah, sure. No, noth - nothing's going on. Scissors. Wet Jahan's hands. I think we can maybe take this jut off - take the - that one, yeah. I think so. Nope. 3-0. Can we wet him a little closer to the tip? So this time, so - so, you know, put it through again. Don't take the needle off. We'll take the juts off, and we'll take a look and see if... So why don't we take first the proximal one through this? Take this one off. That looks pretty good, right? So then take this one off. You happy? We got bleeding. I mean, it's still alright here. I'll hold it up. DeBakey. I was looking at that as we're doing it and thinking, "Hmm... Maybe I shouldn't be so flipped, but -" goes to show. Is this on okay? It popped off once. Is it tight enough on there, or? Yeah. Scissors. Good. Stitch to me.
So we just had a little bit of bleeding. Okay. The accessory adrenal vein that we got into. So I'm going to take the jut off now, right? Yeah, you can go. Can I get the - that DeBakey, please? Perhaps I can show you a little better. All out. Is that good? Yeah, that's good. Alright. On my left. That's the case. Alright, so I - I don't think there's any reason to take anymore. There's - there's like a little bit of schmutz back here. Yeah, her - her cava feels plenty full, so I don't know... So to make something else bleed, we'll purse this. And this should just be lymphatic crap. Okay, and the last little bit there. Alright, so. Think we're much totally free. So you took the right renal - yeah, ever - everything. All you need to do is cut in three pl - places and get it out. Small right angle. 2-0 silks. Those? Yes, please. Two of them. Let's take a couple of these short hepatics to get a little bit more length on the top. Yeah, we took one or two already, but - another - got to leave something for you. Yeah, this one - I mean, you know the - this one is so posterior that the - the Kocher was easy. It was normal instead of the last one where it was all - that was just terrible. Can I take the peanut back, please? Got it - up here. Suction. Pickup. Fine. Can we open up the graft? Small clip. Another clip. Bovie. Yeah, just dip it in water - saline. Can you give her a thousand of heparin, please? And I already just occluded my fingers, and - she did okay? Didn't - didn't blink. That's okay. Let's see.
Do you have the heparin? Please, yeah. Hey Jahan, you want to be over here? Sure. Yeah, why don't you come over here? You have white towels? You have heparinized saline?
You have the three? Alright, ready, Jahan? Ready. We're going to clamp the cava. Okay. Peanut. Never mind - too late. Push that back. Scissors. Big sucker. Got it. That's right. There you go. Here's the tumor. That, I think, is just pushing through - yeah, I think so because this is like normal vein there. It was Jahan that he like - totally like - they pushed it through all the way, and they're like - do think it's - it's all just positive - so yeah. So this is going to be right retroperitoneal sarcoma. How's she doing? With IVC, right kidney - right - kidney, right adrenal, am - and portion of left renal vein.
Can we get the graft, please? Right renal, you said? Left renal. Alright, I'll take that over to path. These your scissors? Heavy, 5-0 Prolene's. Shod. Forceps. Shod. Other stitch. You crease it the whole way like that or just - on the back wall, try to fold it and make it nice and smooth. Shod. You want me to follow you and hold the graft? You're going to follow me in a second. Let go of the graft. Just follow the stitch. Actually, hold the graft in the other hand if you want. Yeah, that'd be great. Get ready to squirt. Relax a second on the graft. You're going to have to cheat a little bit more on the graft. It's a little bit bigger obviously - try a little more on the graft. Yeah. Load up. You can take it off and load it up. Squirt again. So I'm outside. You're outside. Just come outside on the top, outside in, then inside out on the graft. So outside in on cava, inside out there. Either - well, you can go - doesn't matter to me - whatever is easier for you. Do you want me to c - reach it too or - no, just come in. It'll be fine. This you can just take, you know, straight across. It's fine. Pull up. Pull all the way up. Yep. We're going to need heparinized saline on maybe like a Asepto if you have it. Sure. Can I get another Asepto? We'll need a marking pen. Don't want cava. Just where that short hepatic tie was, yeah. Do you have another clamp? Pickup, please. Small clip. Hold the graft. Marking pen. Heavy scissors. Oh, so you don't want it to be too long? Yeah. Heavy scissors. Can you save that piece I gave back to you? 5-0.
Now we'll do the infra. So I cut this, I spatulate just to make it a little bit wider - make up for the - little bit of the size discrepancy. Shod. Stitch. Shod. Tie that one up. Squirt them. Right. Actually, left - to the left. Squirt more. Empty to him. Squirt. Do you want graft to cava or cava to graft? I can do either side, so it doesn't matter. Why don't you go graft to cava? Okay. Shod. Can you airplane the table towards me a little bit, please? Do we know the clamp time by any chance? Yes, you clamped at 19 past. Scissors. Heavies. Yep, a little bit more. That's great. Travel more on the graft. Come back on the cava. Come back this way - not only back this way but back towards your last stitch. You're going to come out of that corner again. Right here on this one. How did you secure the right renal artery for it to be reinforcer? It is tied with a - with a 0 tie and large clip. Okay. We'll need heparinized on a Marks. Do you want to shod the other side of that? No, we're okay. Come cava to graft. Get ready to squirt. I'll take the heparinized. Got it. Good. Needle down. Squirt - a lot. One second. Nerve hook. Don't break it. Scissors. Squirt left again. Two needles. Okay. Ready? Want me to pull back to you? Cava is on clamps. Can I see a stitch? Pickup. PD sucker. Needle. Peanut.
What was it? One of Gerald's? Yeah. Let's just dry it up towards the renal vein. DeBakey. Pickup. Renal artery this? Yeah. Or something next to it. Pickup. Yep. Bovie to my left hand. Large clip. See this for a second? Hold this medially. Clip. Yep. Take it anyway. Bovie. Here's a node. You can save that for Alex if he wants it. Do we have a location of that? Clip. It's like periaortic - maybe. Let's see. I'm ahead of adrenal. Did you take - kept it on the kidney? Yeah, most of it. Lap, dry. Alright. Let's see what's back here. Something's oozy. You have a DeBakey, please? Pickup.
Question is if this is going to reach. Peanut. Barely. Too big. You can roll it. Longer? Does it need to have - no, no rings. Okay. You just need length. Scissors. That goes there. I think that will reach fine. So we'll close off this. Can you just splay out the renal vein with one pickup? Let's just see how wide it really is. DeBakey. Yeah, that's good. Okay, he'll take a 5-0 Prolene. Just oversew this. Eh, not - a little bit closer to the edge, yep.
What do you want for that anastomosis? Well, we're first going to do graft to renal vein to extend the renal vein out, and we'll use - do you have 5-0 on a smaller needle? Sure. Alright what - and then we'll do graft to graft with the same 5-0's. Is that good or do you want more? Huh? Do you want one more, or is that good? One more what? I'd prefer it without the knot. If - I can give you an RB2, a smaller needle, but it's going to go down to 30 inches. That's fine. Okay. I'll take that. I'm going to need five, please. We'll need two of the RB2 and then - come back to this - and then two of the RB1's again. Actually, let me see the RB... 2? Let me see the smaller needle. Yeah, we'll take - why don't you open up 4 of those - of the 5-0's. Empty. Snap. Give me another shod. Thanks. Pickup. Follow it further away. A little tear in the renal vein there. Least end out. These are the fine blues, right? Yeah. The non-blue ones? Squirt. So you're going to go graft to renal vein from bottom up. Is that okay? Yep. Is it lifting? Here you go. We'll get exposure for you in a second. Okay. Hold that. Empty. Squirt again. Do you have a thin malleable? Yes, please. Can you hold this maybe for us? Right there. Perfect. Thanks. Scissors. Tie and her heavy. Needle back. Squirt. You got to change that. You want - want to switch something over to him? Scissors. Needles. Yes, thank you. Can I see a Schnidt, please. Heavy scissors to Jahan. Here are some rings. Cut all that. 5-0. Yeah. You want to put it back on, or? Yes, I needed a smaller needle. Yep. It's not...
These are so thinned out. Cava's really thinned out. This is the end where your hand is here. Sorry, what did you say? I'm just saying cava's really thinned out there. Do you want me to rotate the graft or - no, it's fine. And so what we do is - needle hole or? Hmm? Make that with a needle hole or a line. Save this, please. Squirt. Let me see that again. Here's your sucker back. Okay, can I see a Satinsky, please? Like a medium. That was our line right there. This is going to be here. Satinsky. Nope. Just try to partially occlude this. We're - we're clamping our graft a little bit. You probably won't notice anything, but just letting you know. Thanks. Give me an 11 blade. Those 5-0's. Amanda, I'll take three more. Knife down. Pickups. Heparinized. Whatever you've got, yeah. Scissors. Stevens - or let me just take the knife actually - will probably be easier. Hope's alright. Knife down. 5-0's. It's just partial, and we should be off fairly soon. Okay, just let us know. We have plenty in the room. We're good. Shod. Another one. Alright, so you want me to sew top down? Just hold there somewhere. I am not in Churchill right now. Squirt. So you can backhand it if you want, like that - might be the easiest - or forehand it - whatever you want. I'll forehand it back to you. DeBakey. Don't lean on the clamp. Not like it's an aortic clamp or anything. Scissors, please. Anything. You can pull that sucker out. Can you clean the tip of his driver? Yeah. Is that better? It's great, thanks. If not, you can try the other pair on this one. There hasn't been much blood. Yeah, exactly. Scissors. Squirt. If there's a long one in here, you can save it. There should be four there. Okay.
Cava is fully open now. Needle hole? Yeah, it's all needle hole. If you have some Surgicel... 4 by 4 or lap pat - something. Another piece of Surgicel. You have a vein hook? Put all the - right there, yep. Okay, come out. Uh, the adrenal thing. Pickup. Alright, it looks like you guys are about ready for me. Almost. Alright. Just drying up. Rotate left side down. Squirt. Scissors. Needle. Are you happy? I think it looks pretty good. Scissors to me. I'll stay aorta, Jahan. Nice works. Thanks.
CHAPTER 5
About to close? About to close. We're - we got - we'll do an omental pedicle flap. We'll maybe take - we'll take a look at the gallbladder, and if it got banged up, we'll take it out. If not, we'll leave it in. You taking out the gallbladder? Probably not - I mean, unless I look at it and, you know, it's ratty from retractors, but we worked on it a little bit. Alright. Well... To like - I like to do a little omental pedicle because there's all that dead space back there and everything falls right back and - Bovie. So you don't need to go back there. That's the other side. A Schnidt. She doesn't - she's too skinny to have too much omentum - I know. I was going to say - but that's alright. We'll take what can get. I don't have my headlight on anymore, but... So we'll take it up here. Right angle to me. This is probably a clamp and tie. Yep. Go ahead and buzz that. Metz. 2-0 ties. Yeah. So we're going to need - and then we'll need some 3-0 Vicryls and a couple 4-0 Monocryls. We'll saddle her I guess. Yep, half inch series cut in thirds. Open with that. Okay. Schnidt. This is the part where we have the ligature. It's a nice adjunct.
So we're doing an omental pedicle flap here to kind of fill in the dead space from everything we took out of the retroperitoneal. Okay. Metz. Trying to keep her small bowel out of back there and, you know, protect the graft a little bit. So we took - took the omentum off of the colon, and now we're taking it back up to the - need white towels for that, huh? I know, seriously. Trying not to take little tiny bites. Let's just open this up - just - just score just - just a little bit there. Yep, perfect. Can I have a Kelly? Take 0 ties for the next ones. Another Kelly after this. We're making it look good for TV. Yeah. Leave another hole. Why don't you come out? Okay. Just go ahead and clamp it down. Get the other one, and put it on. Another Kelly. It's right in front of you. So I've got - I've got it open for you - just a little bit deeper. Yep, there you go. Alright. Metz. 0 ties. Suture scissors, please. That's a gi - big giant wad, so. Yep, and then a tie. And then you tell Jahan when you're - you have it down because it's a - you have to... Can I have the heavy scissors, Lauren, so we don't - yeah, they're up there - I - I've got them, yeah. Okay well, you're not going to be the one that makes it better. Alright. So now, let's see. So we can go in this space right here. Go ahead and buzz on my finger. Okay, Kelly's. Can I have a big right angle? Just being a little bit... Do you want to try and go below me or - no, you got it. Metz. 0 ties to Jahan. What size? 0. I'll pass this. It's the last one I have. It's you're up and out of the wound tying. Okay, cut. Okay. Large right angle. Metz. 0 ties.
So now we've got the omentum living off of the right gastroepiploic. We'll free it off of the greater curve to flop down into the retroperitoneum. DeBakey. Let's see. Do we want to really - do we need to go that close to the stomach? I think that's epiploic right there. Yeah. Yeah, I'm just trying to decide - yeah. Yeah, that could - that should be fre - free there. Amazing, these patients with like normal-sized - human-sized - normal anatomy? Yeah. So why don't you gent - Jahan, why don't you go ahead and dissect it - this? Take it off? Off of this - off of the greater curve there, yeah. Can Jahan get a Schnidt? Schnidt, please. The thing you want to be careful about here is not putting the Schnidt onto the stomach itself. No. Yep, you're going to go that way. Good. Hold it open for me. Okay. 2-0 ties. 2-0's? Yep. A little more tail. Try to tie right under the clamp. It doesn't matter where, you know, but just in general. Another tie and a pass. Try not to pull up when you're tying, so let that sit. There you go. Good. Again, it doesn't matter as much for this, but - same way every time. Practice it now so when it does matter... Another Schnidt. So when you're tying off those short hepatics that we were doing earlier, that you're not pulling them off because - they will. So said half inch series, sir? Yeah. Thank you.
Other hand. You want the instrument in the hand of the tip that this is pointing to. If it's pointing to your right hand, put it in your right hand. Okay? Yep. So what I'm doing here is we're doing a omental pedicle flap. The radiation oncologist loved this because, you know, if we had to give additional radiation or if she had a recurrence, this keeps just the small bowel away from the retroperitoneum. So what hand is it going to go in this time? Right hand. There you go. Good. Pull. Now before you start yanking on this, give yourself enough length there so you're not sawing. Yeah, exactly. Yeah, especially with these braided sutures - you really can saw through things. I don't - I don't know that we need to do any more up here. I think we can pr - probably finish taking this off the colon. Don't burn the colon. Could you take one of these stands away? Can I have a DeBakey, please?
I don't know where. We're a little off plane here somewhere. So this needs to come. Bovie that. I think we're - I think the omentum is stuck to her mesocolon back here because we can't get into this one spot. Yeah. So here's the plane - because, yeah. I'm down here in the bare area. Go through that. I think that's okay. It's good practice. Go ahead. Through here or over - right on my finger. Keep cutting it down here. Can I have a DeBakey? Can I have a DeBakey too? And a medium clip. Yeah, do like that. We may not need anything more than this. We'll take a look and see what goes back there now. I'm going to be right - right under the clamp, yep, because you don't want to tie off anything that doesn't need tying off. So let's see. So where do we tell? Let's - let's - probably just go like that. So this is the plane here. Yeah, something like - separate this. Do we still have - yeah, so here's ve - vessel. Because we're stuck, this is omentum. This is transverse mesocolon. Yep. DeBakey, please. Right, just open up right there. Yeah, so it should be right here. Schnidt, please. See how the fat's different? Smooth fat - between the omentum and the mesocolon - yeah, there's smooth fat here. There's like this - probably from ra - probably from radiation. That's why it's stuck. Normally, this - there should - should be an anatomic plane, but it's stuck together. Good choice. That was the most important step today. Suture scissors.
Alright. So, down to there - this stuff here, yep. See right there? Right - yep, right there. Okay. DeBakey to me. Oh, I see it. It's starting to separate. Yeah - yep. You want the lumpy, bumpy part to go toward you. Exactly. Okay, stop there. That's really omentum there, but here - wait, you see this free space right there? Yep. Probably - Schnidt. Metz. 2-0 ties to Jahan. So my side first. You put it right in the middle, but that's okay. Now take it. Now get rid of your forceps. Come towards you. Pull up on two ends. Give yourself some inside. Good. Now come towards you. Yep. You can let go of the loop. Yep. Go ahead, needle down. Pull up the two ends. Watch what you're doing. Pop off the needle for a second. You can let go of the loop, yep. Needle down. Now pull up the two ends. You got it? Good. Good. Okay. so now let's clean up back here. A big sucker - got it. Now we can take this. Put this on the graft. The corn falls back with it. We're happy. Woah, that is so cool. This is weird. What's that from? Well, I don't know, but maybe actually blood supply. It's actually like this. Yeah. That - that's fine like that. There we go. Yep, leave her the way we found her more or less - minus one tumor. Okay, we've got - that's for you. Thank you. Alright, great. Let's take a look at the gallbladder. I think it looks okay. Yeah, it looks fine. Any stones in it? No. I think I'll leave it. Can't justify taking out. Yeah, no - no real reason to take it out, huh?
Alright, let's... So do you guys really need a NG Tube in? No. What kind of retractor is this? This is the Thompson retractor. You're way ahead of me because you saw this as an intern. The first I was doing this...
0 Vicryls. We're - we're going to use the 0 PDS, but we're going to use the 0 Vicryls first. So is this to try to bring together the corners - yep, exactly right. So I'll take a 0 Vicryl. And a Bonnie. Can I have a Bonnie? Bonnie right there. Great. Again, this is going to go to here - okay - you know, right - right at the corner, right there. So this is going to be the next bite just around the corner this way. Okay. Then we're going to do the next bite around the corner towards me. This is the - both to line things up and to reinforce because this is the sort of most vulnerable part of the incision for hernias. Make sure you're seeing what's underneath and not stabbing random things. So then the next - last one here is going to be the lateral edge of rectus sheath - can I have a Rich, please? A what? Which is right here to right here. Okay. I'll take a Vicryl, please. Sure I'll take it. You can probably pick this up for yourself. You want to find the corner - is that corner right there. We actually don't have very much lateral to that on her. Sometimes, you have quite a bit more lateral. Okay, so find out later. I got - grabbing these down there. So you know there's muscle here. Perpendicular, yeah. There you go. Snap.
So what we want to do now is we want - close it - we're going to close the - the rest of this in two layers. Layer one is going to be the - everything but the external oblique here. Do you have a Kocher? It's coming down, see, through this. Yeah, this is rectus. That's the muscle. That's the - yeah - yep. So we just need to start our 0 Vicryl, and this is your - your shod, Jahan - your 0 - 0 PDS. It's just going to be a couple bites, and then you're going to transition onto the posterior rectus sheath. I - I'd probably take just the posterior with this bite, Jahan, because it's already starting to separate and we want to save the anterior for the next layer. You want me to tie that Vicryl now? Yeah, he will take this Vicryl and goes behind. This is - I go basically just to the first Vicryl that you come to, and then you cut one, take it to the other side, and tie it to itself, Jahan. Okay. Yes, so see we're - we're a little bit - you got - need some very small bites on the top and bigger bites on the bottom - or small travels and bigger travel. And then whenever you're tying a loop, you always want to make sure to tighten both a - arms of the loop because you can have slack in there that you wouldn't know if you didn't tighten both sides. Okay. That's just for the first throw? Well, I mean, really with any throw, but once you do it with the first throw, it should be even for the remainder. Alright, so then anterior sheath here, midline here - tie those two in the corner and - do we tie these Vicryls now? So - I usually don't tie - I actually tie those last usually because - you happy? Yep. Alright, thanks. Thanks, Jahan. Nice work.
That's good. Hang them on this side. Now you can actually see the fascial edge there. You want to go all the way back - yep - skiving through the muscle, perpendicular on the fascia. Over on this side, lift for me. So there it is, right there. Sometimes, it looks like muscle, and sometimes, it looks like itsel - like something unique - you know, like - right - distinct from the muscle. So here, let me show you something. Yep. Let me show you something. If you grab - come out - if you grab just - can you guys page me when patient's awak? Sure, will do. Just that - see you just have the fascia there, okay? Yeah. Hang on. Got a dry lap in here - see what we're doing. Just the fascia - there you go. Good. Take just the fascia. Good. You took a little muscle - that's okay. Now see if you can find the posterior sheath. We shouldn't need the light anymore, so just as long as everybody remembers not to - okay, good. So now do you see how that closes the fascia up around the muscle? Okay, good. Now, find the fascia on that side. Let me help you out. So now you're back to midline, so you - you don't have an anterior or posterior here anymore, right? It's just - yep. Yeah, it's just one piece, so go ahead. Go through it. Right there? Yep. Pull it up. Hang on. Doesn't make any sense that we need to make new holes. Alright, loop PDS. So now we're going to close - anterior sheath - anterior sheath and run it back to the midline, all the way over there through the loop. Pull it up. Shod. So, get this out of here - without spearing myself. That's back to you. Okay, Jahan, pull up on that with me. Okay. Hang on. Okay. Good. Alright. Now - snap and scissors. Yep. Cut these off over here. Can I have scissors, please? Okay, tail. Alright, let's pull these Vicryls up and tie them. Cut. Don't cut your snap. Alright so, this feels good. I don't feel any hernias. This is closed all the way back. Can I have some dry laps? Alright, the fascia's closed.
So Jahan, little lower than deep dermal. I don't want them to show. Okay. So I'm going to put this corner one in. You can travel more. I would do - put the next one here. Thank you. Take another stitch, please. Jahan, hold that open for me. A little flap. Yeah. Where is - I need like two more over here. Scissors. Thanks. Okay. I just need one more. What do you have to run the skin Monocryls? You have like tons of Steri-Strips? Yeah. Do you have benzoin? I can get it. Thanks. Needle down.
CHAPTER 6
So we were able to complete the operation relatively smoothly. We were able to obtain clear margins on the vascular division structures, and we test those with the intraoperative pathology. The tumor came free of the colon and pancreas quite easily, which isn't always the case. We were able to get this operation done with relatively limited physiologic disturbance, and the patient is going to a regular hospital at end of today. We did not - we did not give any blood transfusions. She is extubated and breathing on her own.
CHAPTER 7
Hey. I got a frozen for BST. Hi. Welcome to Frozen Lab. So we've got a caval sarcoma with a ki - oh, wow - kidney and couple other things. Sweet. Patient have a history of IVC sarcoma or - yeah - yeah, it's a primary IVC leiomyosarcoma. Great, now can I get some more Chucks? We're out. Sure.
Wow, look at that. That is a nice looking sarcoma. Yeah, so basically we're looking to - I want - there's a couple of things I want to look at here. You want margin, huh? There's a couple of margins that I want to check. So there's a caval margin. Yeah. The - the inferior margin seemed like miles away. Yeah, so I think this is - this is going to be the superior caval margin here, which seems quite free, and then this is the left renal margin, which also seems free although it may be a little bit closer. So let's just get a little disrupted here or - well - well, this is - this is the - this is the left - oh, that's actually the vessel - this is the left renal vein orifice here, so tumor is actually going into the left renal. Wow, that's - that is gorgeous and terrible for the patient. Yeah, and so, you know, I'd love to check that - yeah - that margin. I think - yeah - that's the one I'm most worried about. Okay. And we certainly could take more if we need to there, but - we're happy to take off whatever you want, so you want to just do the vein to start? Do you want to take the IVC margin? Might as well do the IVC margin all s - now, but that's - that's pretty - that's pretty far away all around. I mean, I'd be pretty surprised, but - yeah, sure - you never know - might as well - I guess, right? Yep. I'll check that. So let me do the vein first. I'll get that going, and then we'll go from there.
And then - although maybe - maybe you - you could take a photograph before you did that - sure - if you don't mind - I'd love to do that. No, I'm happy to. Yeah. So I'm just going to try to prop it up with this clay so that you can nicely see Dr. Haynes' margins. Of course, it's a little slippery and doesn't really want to stay, so it just takes a second. Just check that the photo came out okay. Looks pretty good. I can see the ring margin. Let me see. The renal margin's a little right, but it's probably about as good as we're going to get propped up. Alex, here's what I took. See if this is good enough for you. So we've got - here's the margins - yeah, yeah - from above. Beautiful. And then we have the back - yeah - and front. Beautiful. That's great.
Yeah, so what we're looking for here is - we're looking at the - the vein margins. You see, the tumor sort of bulges through the vein orifice, but most - that's not a positive margin because the tumor is actually - the margin is this. It's not this. And so we want to look at the edge of the vein to see if that's involved, and you can tell - by feeling it, it feels unlikely that it - to be involved because there's a nice lip there - but again, it's always go to take a look and figure out - especially in this case where there's plenty of room to take more. Sometimes, we've had where we've taken them up off of the - you know, the IVC basically at the pericardium, and even if the margin is positive, we're not going to take more of it. Now presumably we don't need a frozen of the sarcoma, right? No, diagnosed - it's already been diagnosed, so.
So part of the reason why I come here for this is is that we can have a discussion about what we're looking for. Additionally, orientation isn't always straightforward. It's extremely helpful when they come in - when surgeons come in and help us orient - especially complex one. There's a little branch, huh? Yeah, there's a lot of little branches there. Those are the short hepatics. You know, basically, what we do is we're both available, and we get everything all set. And then - one - you know, like I did today, ideally free up everything other than the vascular attachments, and then we'll clamp and cut. And it actually works out perfectly because it's just about the right amount of time while I'm here reviewing the specimen for them to reconstruct the cava. So it's kind of like on the fly if you guys are rotating immediately - yeah - everything you're doing - so we - you're picking up everything you're cutting off. Yep. Okay. So I just have to cut the sutures off this. Yeah, of course. One blade.
It can sometimes be challenging to, you know, coordinate the operating day because we both have to be available and have to be flexible enough to - to do that. I usually block off, you know, all or most of the day for something like this. Then Dr. Vagefi - when he joins me, usually he'll do some small cases in the morning, and then - so he's ready for when I need him, which is - today was relatively quick. It's often not until later in the afternoon when the tumor's out - depends a little on whether we're taking other organs or other things out along with it. So what does he do when you're doing one of these cases? Dr. Vagefi - so he - he reconstructs the cava. That makes sense because a lot of that - when he takes out liver - exactly right. And, you know - suppose we could have someone from vascular helping as well, but a lot of these cases - if we - you know, particularly if we're going up, you know, putting our clamp suprahepatic or retrohepatic, having someone who spends a lot of time with the liver is good. Also, he does a lot of kidney reimplantation and the like, so - you know, the - yeah, he does all this kind of stuff. So he has to reimplant the left renal vein into the graft. Who better do that in the transplant surgery? Yeah, exactly.
You have two margins here. This is the renal vein. This is the IVC. I had to sort of fold it over a little bit just to get it all on. You can see we have essentially a cross-section of the vessel here. And then we'll throw them on and have a look. The attending is coming. I am a lowly resident, so I will do what I can here. Take it here, huh? There he is. Dr. Chebib! He wanted us to take a look at the vascular margins - both of which, proximally, look really quite free.
This is the left renal vein - correct - and other - the - the kidney that's still in her body. So how was this margin taken then? So I - what I did was - if this was the tube, I snipped sideways like this and then went all the way around, and I put the ring margin up - straight down, so. Canted? No, not canted. It's just true margin up. Same thing with the IVC, I snipped in from the side, went all the way - that's - this is okay. This all looks clear. That's perfectly fine. This is just the area I'm concerned here. Yeah, because the tumor seems to be - come from the posterior aspect of everything. Okay, yeah, because it looks like this anterior wall is all there. Correct. But you've already taken some. Did you - yeah, sorry, it's actually frozen sitting on the microscope right now. Okay. And then I - I wonder should we - should we - this is - it's interesting. I mean, it's a little thicker than the vein wall usually is. It's far away from the tumor, but... Do you have a probe? There's lumen. It's probably like obstruction. Maybe, yeah. I mean, it was - it was pretty obstructed and had big collaterals. Alright, let's take a look at this. Alright, well it looks like normal ves - vessel wall. I don't see any sarcoma here. Great.
So typically we - we look at the margins for sarcoma because we want to make sure that we don't need to take anymore, and I like to look at the margins myself with the pathologist. Here we have expert sarcoma pathologists like Dr. Chebib, who - all he does is look at sarcomas, because sometimes a diagnosis can be unclear. We want to know whether or not we need to take more tissue, but also sometimes, we use the option of intraoperative radiation therapy. We use that - make that decision based on the margins and the appearance under the microscope. For this patient, she's on a protocol that uses proton radiation where we've already given her essentially a boost to high-risk margins, so we wouldn't use intraoperative radiation for her in any case. But for other - other patients with similar tumors, we do sometimes use intraoperative radiation therapy. We can actually deliver focused radiation to margins at risk while the patient's asleep and open in the operating room. I'll go let him know that the margins are clear and make sure that they're happy.